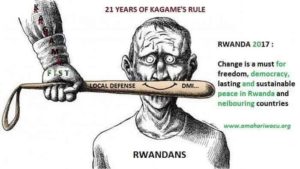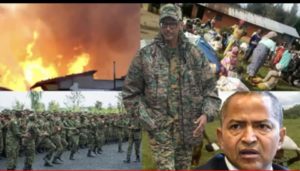 A police and oppressive state can be identified by its layers of security setup. In case of Rwanda, a country where the ruler brags of 99% of popular support; the number of different security apparatus indicates an opposite picture contrary to state lies. Rwanda is under a purified totalitarian regime and hypnotised dictatorship. Intimidation, incarceration, impunity, disappearances, state killings and more importantly state waste, are displayed at the forefront of the Country's billboards.
Criminal Paul Kagame's layers of oppression and enslavement machinery:
1) Nyumba Kumi (local "leader" @ every ten houses), the first line of civil oppression against innocent citizens.
2) DASSO, local defence force. Composed of civilians but led by war veterans.
3) RPF's district committees, they are totally active in suppressing dissent.
4) The General Directorate of Immigration and Emigration, plays a big role in the king's oppression mechanism.
5) ISO, Internal security organisation under the NSS. Civilian security operatarives in all sorts of Rwanda's profession-job segment.
6) Police with all its branches which includes the notorious CID, special operation unit and Rwanda Investigation Bureau.
7)DMI, the notorious Directorate of Military Intelligence.
8) AFI, the Air Force Intelligence unit based at Kanombe airport.
9) PICU, the presidential Intelligence Coordination Unit within the presidential guard
10) Army, one battalion per commune (Akarere) led by a Lt. Col and above in ranks.
11) Special Force units led by Captains and above, especially in areas bordering Uganda, Burundi and DR Congo.
12) Presidential guard units led by Captains and above ranks. Now, deployed around Kigali, rural Kigali, border with Uganda and border with Burundi.
13) Reserved forces – imbera gutabara.
14) The judiciary, this is part of Kagame's oppressive machinery as it's partial to it's core, partisan in nature and manned by RPF cadres.
15) Numerous media outlets, since freedom of press and expression is none existence in Rwanda, all media outlets are owned by the brutal dictactor, and he uses his media outlets to dehumanize, intimidate, threaten and keep in control his oppressed and enslaved subjects. Under Paul Kagame, the media is an extension of his security apparatus.
16) External Intelligence service, which is under the dreaded National Intelligence and Security Services (NISS), a very critical part of security organ that has participated in elimination of innocent people.
17) Free to add what I have forgotten……
In order to sustain his totalitarian rule, Rwanda's criminal ruler has wasted the country's meagre resources and taxes, to pay and sustain the above thuggish security structures. A security structure that is there to spread impunity and all sorts of human rights abuses, than promoting the general peace of all the citizens irrespective of their political ideology or affiliation.