By: Rpf Gakwerere
Looking tired but still deadly, one of Rwanda's deadly National Intelligence and Security Services operative. Everyone who has worked with her, will tell you how Louise Mushikiwabo is totally incompetent in her official job. But she provides another critical element for the satanic regime, the reason criminal Paul Kagame has always stuck with her.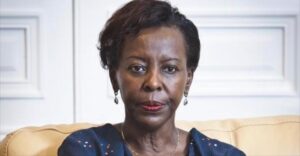 Recently, Canadian Catherine Cano, who was a director at the Organisation Internationale de la Francophonie (OIF), accused Louise Mushikiwabo of being incompetent and clueless, and the role of Secretary General of OIF as being too big for her. We all know how she got this position.
As Rwanda's foreign minister, armed with her slick sweet talks, she was able to penetrate very many high places, thus extracting sensitive information for Criminal Paul Kagame. She run a sensitive female operative team, and up to present, she is still in charge of hooking these Directorate of Military Intelligence female operatives to foreign dignitaries, thus allowing potato enclave – Rwanda's mafia intelligence apparatus obtain sensitive information. These girls refer to her as MADAME. Louise Mushikiwabo has been able to successfully complete Kagame's high level targets by bedding 5 Presidents including one deputy president, thus obtaining necessary information and blackmail leverages for use when the needs rises.
She is a former Paris red light district Ninja, thus allowing her to learn and obtain all Bukoryo to pull all sorts of men. She was recruited by assassinated Col Patrick Karegeya, from New York where she was working as a shop attendant in a charity shop, and taken to the centre of power.
Ignore her fabricated CV, we all know how members of the satanic regime have all fabricated their CVS, including criminal Paul Kagame. Just visit Wikipedia, and read on Criminal Paul Kagame, the information on his education states that his a Makerere University alumnus, but we all know how he dropped out of school in senior 5 at Old Kampala Senior Secondary School, not due to failing to pay school fees but rather preferring to be a conman (Mufere) along streets of Wilson, Luwum and William. His skinny ass has never sat for any lecture at Makerere University.
Louise Mushikiwabo's recruitment happened at the time when Col Patrick Karegeya was recruiting people with exposure to join Rwanda's external intelligence or the foreign ministry.
Don't be mistaken by tired and frail looks, the serpent is still deadly. Oppressed and enslaved Rwandans still remember how she celebrated the brutal assassination of Col Patrick Karegeya, a person who recruited her.
————————————————————————————————————
N.B: you can follow me at – Robert Patrick Fati Gakwerere page (Facebook page), @RGakwerere (tweeter) or at my blog – rpfgakwerere.org.
However, for those in the enclave – Rwanda, the blog rpfgakwerere.org was blocked by the junta regime, it can't be accessed unless you are using VPN.