By: Command1post
The General Court Martial yesterday Monday remanded seven Ugandan security officers accused of sharing sensitive information with Rwandan government agents to Makindye Military Police Barracks.
The suspects include are Second Lieutenants Alex Kasamula attached to Military Police, Phillip Neville Ankunda, attached to Special Forces Headquarters as a Pilot, Privates Nathan Ndwaine  , Moses Asiimwe and Godfrey Mugabi, all  Engineering and Aircrafts Maintenance students at Nakasongola Air Defense Wing.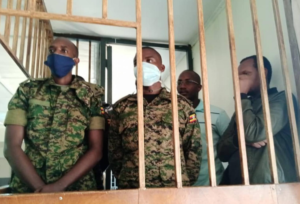 The others are Assistant Superintendents of Police, Benon Akandwanaho and Frank Sabiiti who are attached to Kira Police Division Headquarters and Counter Terrorism at Mutukula Border Post respectively. The suspects appeared on Monday afternoon before the Makindye based General Court Martial chaired by Lt. General Andrew Gutti.
They were charged with offenses relating to security contrary to section 130 of the UPDF Act, which provides for offense relating to disclosure of confidential information to an enemy or unauthorized members of the defense forces, person or the public.
According to prosecution led by Captain Ambrose Baguma, between February and May this year, the accused persons and others still at large at various places within Kampala City, shared sensitive information with agents of Rwandan authorities with intentions to prejudice the security of the Defense Forces of the Ugandan government.
Prosecution didn't divulge details on the kind of information the accused person shared with the Rwandan agents.
However, according to a security source, the pilot and the Aircraft engineer had been approached by agents from Rwanda military intelligence to provide them with information regarding Uganda's lethal Combat aircrafts, the Sukhoi-30.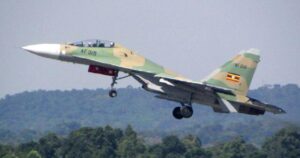 "They want the jets' security systems, user manuals and other relevant information that could help them crash the entire fleet. These  items are exclusive to the buyer and no else has them".
It is reported that the agents also wanted to know the location of the jets and security around them to be able destroy them in order to destroy Uganda's air capability in case the two countries go to war today on in future.
Uganda was the first African country to buy Su-30 fighter-bombers from Russia.
While this acquisition was often explained by the possible requirement to protect oil sources found in south of the country, the local air force made the decision to buy Su-30s, for a host of different reasons.
Most of these were related to the Ugandan involvement in the Congo Wars fought between 1996 and 2003 and, more recently, Uganda's pursuit of the Lord's Resistance Army and Alshaabab fight in Somalia.
Both experiences showed that the Ugandan air force needed a long-range, multi-role fighter-bomber – simply because of the requirement to hit targets that were hopelessly outside the range of existing jets.
With Ugandan pilots already trained on such Eastern types as the MiG-21 and L-39 and the necessity of replacing a miscellany of combat types already in service, the Su-30 was actually a logical choice.