By: Rpf Gakwerere
Today, 4th January 2021, 13 Rwandans were arrested this afternoon in Kabale town for illegal entry into Uganda. They were aboard a bus heading to Kampala. All the arrested Rwandans are youths.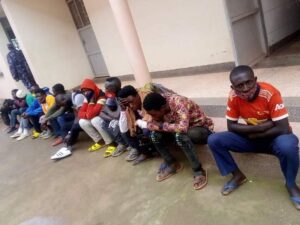 Probable questions in the minds of security personnel who will be interrogating them:
1) Why are these youths illegally entering the country when the country is in the middle of general election campaigns, with pockets of insecurity in the country.
2) How did they manage to enter Uganda, well knowing that Rwanda has deployed special force units and various defence personnel along its border with Uganda. For nearly two years, criminal Paul Kagame's forces have been shooting anyone trying to enter Uganda or trying to enter Rwanda from. It is only none Citizens allowed to legally leave Rwanda through proper crossing border points with Uganda.
3) Do these youths have military training/skills?
4) What are their addresses in Rwanda? What did they use to do in Rwanda?
5) Where are they going, do they have contacts in Uganda? If so, who are these contacts? What are their profiles?
6) Are these genuine youths fleeing from poverty, dictatorship and hunger?
7) Etc….
After the questioning and gathering intelligence, without doubt, the illegal entrants will be deported back to their Singapore of Africa – Rwanda.
At the moment, Uganda is on high security alert, especially due to external factors impounded by the South – western terrorist neighbour.
President Museveni recently accused some unnamed foreign countries of seeking to influence the nation's politics by funneling assistance to the opposition through non-governmental organisations and other means .
"It is important that external players refrain from interfering in the internal affairs of other countries," President Museveni noted recently.
————————————————————————————————————
N.B: you can follow me at – Robert Patrick Fati Gakwerere page (Facebook page), @RGakwerere (tweeter) or at my blog – rpfgakwerere.org.
However, for those in the enclave – Rwanda, the blog rpfgakwerere.org was blocked by the junta regime, it can't be accessed unless you are using VPN.