By: Rpf Gakwerere
Early last month, 2020, extremely ruthless, heartless, greedy, selfish and motormouth Eduard Bamporiki airlifted his wife for medical treatment in Belgium after all sorts of medical setbacks in what Eduard Bamporiki always refers as African Singapore – Rwanda.
The only alternative for Eduard Bamporiki to save the life of his wife was to be taken outside Rwanda for expertise medical treatment. When it came to the life of his immediate family member, ruthless Eduard Bamporiki remembered that the Potato Enclave – Rwanda isn't Singapore, but rather an impoverished country with a collapsed health care system.
I don't need to remind oppressed, enslaved, starving and unemployed Rwandans, in regard to roles played by ruthless Eduard Bamporiki in the demise of assassinated gospel singer Kizito Mihigo, and recent cases of Aimable Karasira. The dude is a very dangerous and ruthless political thug.
Currently, poisonous motormouth Eduard Bamporiki is Potato enclave – Rwanda's minister of state in the ministry of youth and culture, previous to this appointment, the uncultured and ill mannered thug was the head of criminal Paul Kagame's youth militia, Intore and a Member of Parliament, in Rwanda's buffoon Parliament where all parliamentarians are selected and appointed by the ruling party.
While in Belgium to support his wife who's going through hard times due to her health, this didn't stop ruthless, callous and heartless Eduard Bamporiki to enjoy the new year celebration surrounded by new chronicle of Inkotanyi goons.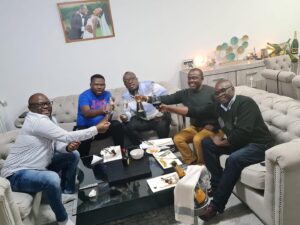 In the photo below, three people are missing, for the ruthless, heartless, greedy and dangerous team to be full. Missing members in this club of Inkotanyi minions are: 1) Loudspeaker, ruthless sycophant Olivier Nduhungirehe 2) Another totally inept – Kichwa Maji guy, with a big head, who leaves in either USA or Canada, I can't remember his names and 3) Evode Uwizeyimana.
This photo takes me back to words of criminal Paul Kagame, "those ones aren't a problem, just give them food, beer and women, and results will be positive. The problem are those who used to be with us, those initial supporters, but these others aren't a problem at all, solution for them is simple."
————————————————————————————————————
N.B: you can follow me at – Robert Patrick Fati Gakwerere page (Facebook page), @RGakwerere (tweeter) or at my blog – rpfgakwerere.org.
However, for those in the enclave – Rwanda, the blog rpfgakwerere.org was blocked by the junta regime, it can't be accessed unless you are using VPN.