By: Rpf Gakwerere
Criminal Paul Kagame's corruption against gullible Rwandans started way back. The man has been grabbing anything on his way without any single mercy or pity.
For example, while all sorts of people, including old grandparents were financially contributing to RPF/A liberation struggle, criminal Paul Kagame who was then the coordinator of the RPA/F struggle would use the finances of the rebel movement to take his wife, Jeannette Kagame Gasana to Belgium to give birth. Apart from the first child, all the other three children were born in Belgium under embezzled finances from RPF/A rebel movement coffer which financed these extravagant trips.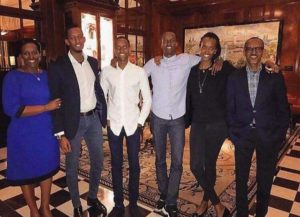 While all families had tight their belts due to their role in financially contributing for the RPF/A struggle, criminal Paul Kagame and wife were leaving an extravagant life style with wife making several trips to Belgium, France and Germany. And everything being financed by the rebel movement – RPF/A coffer.
It was during these foreign trips that Jeannette Kagame Gasana met his childhood and adulthood friend, Eugene Gasana. And what came out of their encounter(s) in cities of Europe is well documented, and a product is there for everyone to see.
Criminal Paul Kagame's plunder, high level corruption/embezzlement and brutal killings didn't start yesterday. They are decades long behaviours.