By: Rpf Gakwerere
1) Jeannette Nzirorera Kajuga Gasana Kagame, currently running Kagame family empire after the near collapse of crystal ventures. She is the head of the mafia business empire and being supported by his brother Richard Murefu. Of recently, she has withdrawn from frontline limelight to concentrate on family business empire and taking care of her very ill mother.
2) Ange Kagame, the real Prime minister of the potato enclave – Rwanda, heading the daily micro managing of the formal government. Like her father – criminal Paul Kagame, she is extremely obsessed with power, and she has tasted blood of innocent citizens.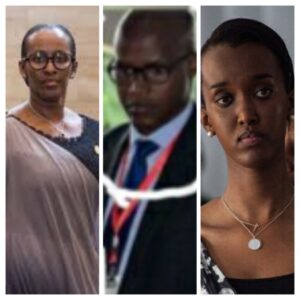 3) Brig Gen Willy Rwagasana, the real chief of defence staff. Brig Gen Willy Rwagasana is the head of the presidential guard brigade, known in the enclave – Rwanda, as Republican Guard. All security chiefs are briefed by him and in turn debrief him. He is the key point for their access to criminal Paul Kagame. He is the link between security chiefs and criminal Paul Kagame. Brigadier Gen Willy Rwagasana leads the best trained and armed wing of the army. Criminal Paul Kagame's presidential guard is an army within an army. They have different salary structure, which is generous, they control a superior armoury that the regular army.
In the past three years, Rwanda's special forces has been turned into an extended Brigade of the presidential guard. Special force units are currently being led by officers who were serving in the presidential guard, and the head of Special forces, Brig Gen Ruki Karusisi spent years in the presidential guard, deployed in Paul Kagame's close protection team, before being deployed in special force, he had spent years as head of Paul Kagame's close protection team. Brig Gen Ruki Karusisi and his special force Brigade report directly to Brig Gen Willy Rwagasana, the commander of the Presidential guard, and guardian of Kagame family rule.
Oppressed and enslaved Rwandans will ask, what about Paul Kagame? As noted in my numerous posts, the dictator is battling personal health issues, and he has delegated the ruling of the Kingdom to his daughter, estranged wife and a very trusted house boy General.