By: Robert Patrick Fati Gakwerere
As leaders allover the world sent Christmas messages to their respective constituencies, in the potato enclave – Rwanda, Criminal Paul Kagame, his estranged wife – Jeannette Nzirorera Kajuga Gasana Kagame or their respective offices didn't bother to send Christmas messages or festive wishes to their oppressed and enslaved citizens!
Obviously, criminal Paul Kagame or his estranged wife don't give a damn about their oppressed and enslaved citizens. Their relationship to them, is that of master – slave relationship.
I hope next year, 2023, The Kagames will stop committing human rights atrocities, release innocent citizens rotting in their dungeons, cease their economic plundering and allow peace and security in the region.
However, Criminal Paul Kagame's designated successor Ange Kagame released a family photo celebrating the innocent lives the Kagames have taken. Celebrating innocent people rotting in their torture dungeons. Celebrating the psychological torture being inflicted and experienced by numerous children of those who have been eliminated, kidnapped or incarcerated by the Kagames. Celebrating innocent people that their RDF-M23 forces are displacing in DR Congo. Celebrating the plundering of Rwanda and DR Congo. Celebrating torture, heinous brutality and disappearances. Celebrating their callous human rights atrocities across the world. Celebrating being bloodthirsty autocrats. Sick!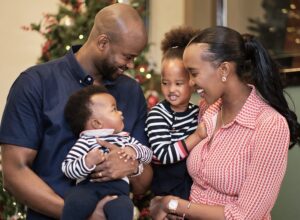 RIP Guillaume Rutembesa, RIP Alexia Mupende, RIP Kizito Mihigo, RIP Innocent Bahati…etc, assassinations and enforced disappearances that ruthless Ange Kagame personally participated in.