By: Robert Patrick Fati Gakwerere
An spionage cell of Rwanda's Directorate of Military Intelligence (DMI) in Kinshasa was uncovered and dismantled by DR Congo's security services after months of tracking this cell that was operating in Kinshasa,  capital of the Democratic Republic of Congo.
The identities of these DMI operatives  were
officially revealed by the Country's Deputy Minister of Interior assisted by the Spokespersons of the Army and the Police during a briefing broadcasted on December 27, 2022, on DR Congo's National Television.
Of the four ring leaders shown, 2 were Rwandans, one of them an active Rwanda Defence Force (RDF) soldier, and all the four have been operating in DR Congo under the cover of an NGO called "African Health Development Organization" (AHDO).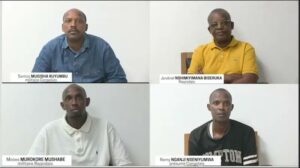 According to DR Congo's deputy minister of Interior, these DMI spies had infiltrated the FARDC hierarchy and all elite segments in Kinshasa. They had established working contacts with senior FARDC army officers, high-profile political figures, business community and members of civil society.
Their encrypted telephones and investigations revealed and uncovered how these operatives of Rwanda's Directorate of Military Intelligence had accessed various strategic sites within the capital and this, in complicity with a certain general and senior officers of the FARDC.
The deputy minister of interior, Army and Police Spokesmen all said that the investigation is still on going reasons they cannot name the General who was in complicity with this group, but all aspects say this is Lt Gen Philemon Yav who was arrested on 20 September in Kinshasa and placed in detention at Makala. At the time of his arrest, Lt Gen Philemon Yav was the commander of DR Congo's third defense zone that spans across Ituri, Maniema, North and South North-Kivu regions.
The deputy minister of interior, Army and Police Spokesmen, noted how other spies are being tracked down especially some elements who were working for this operation cover NGO, African Health Development Organization (AHDO). This NGO had branches in other provinces of DR Congo, in the provinces of Kwango, Kwilu, Kasai, North Kivu and South Kivu. The top security brass also told the press of other two individuals, a Rwandan woman and a Congolese man that they haven't displayed due to ongoing investigations. After crossing checking with contacts, the Rwandan woman is Josette Umwali, Rwanda's long time external intelligence operative operative attached to DR Congo desk. According to sources, she is the one behind the identifying, selecting and recruitment of Mr. NSHIMIYIMANA BISERUKA Juvénal into Rwanda's external intelligence service. A selection and recruitment that started by being a side chick to Mr. NSHIMIYIMANA BISERUKA Juvénal, an NGO boss, an NGO that was later used as a cover for Criminal Paul Kagame's operative.
DR Congo's security top brass also told the gathered press how these DMI operatives had bought a prime piece of land near N'djili international airport. Army spokesman noted, "buying of a very expensive piece of land on the perimeter of the international airport of N'djili and the military base of Kibomango gave a glimpse of the preparation of a Machiavellian plan similar to the one that was the basis for the assassination of President Juvénal Habyarimana and his Burundian counterpart Cyprien Ntaryamira in 1994."
Investigations are continuing on the basis of leads and evidences provided by those who have been apprehended by the security services. Top security brass at this press briefing reassured the population that the Country's Security Services are working hard to dismantle these terrorist network of criminals sent by Rwanda, and all Congolese accomplices, either civilian or military, will be put out of action.
Who are the four DMI operatives presented to the press?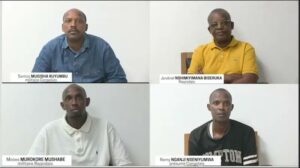 According to the presentation made by the FARDC Spokesperson, Maj General Sylvain Ekenge, these are respectively:
Mr. NSHIMIYIMANA BISERUKA Juvénal (Born in 1964, a Rwandan and Married). His being investigated for Espionage, Breach of Trust, Incitement of the military and Corruption. He became the actual ring leader of this well financed cell after being recruited by his side chick – Josette Umwali, a seasoned Rwanda's external intelligence operative. Juvénal NSHIMIYIMANA BISERUKA was the person who supported operatives from Rwanda to get jobs within this NGO, African Health Development Organization (AHDO). Using this NGO, He had managed to infiltrate all levels of DR Congo's ruling elite up to DR Congo's first lady, Denise Tshisekedi.
Mr. MUROKORE MUSHABE Moses (33 years old, Rwandan). A DMI operative at RDF rank of a Captain operating under Rwanda's external intelligence services. He was charged for Espionage and false documentations. His father, Maj Gen Eric Murokore is the actual de-facto operation commander of RDF-M23 in DR Congo. If God allows, I will be writing a different piece on Maj Gen Eric Murokore's different operation assignments in DR Congo since 1996 to present.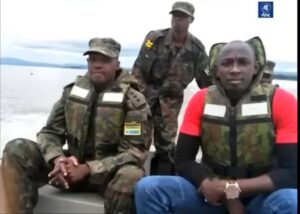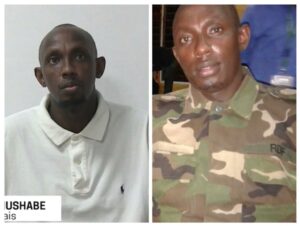 Mr. NGANJI NSENGIYUMWA Remy alias Djuma (42 years old, presumed Congolese). He manipulates several nationalities including that of the DRC on the pretext that he is from the Hunde tribe when he does not speak his mother tongue, even less Swahili except Kinyarwanda.  He says he was born in Goma while the CV seized in his belongings indicates that he was born in Uvira. Also, in his belonging a refugee card issued in Uganda by UNHCR was discovered, it indicates he was born in Burundi and he is Burundian. He is being held for espionage and false documentations.
Colonel MUGISHA RUYUMBU Santos (42 years old, Congolese soldier). A senior FARDC military officer at the rank of a Colonel. He is being held for Treason and Violation of Military code of conduct.
In there conclusion, DR Congo's to brass noted that there are enough evidences across the Country of Rwanda's terrorist spies illegally operating in DR Congo with the help and support of Congolese accomplices. But they reassured the population that the security services will continue protecting the country against these foreign terrorists and their collaborators. They pledged to continue briefing and fulfilling Government's obligation of accountability by informing the population on any case of espionage or terrorism infiltration by Rwanda's terrorist spies or their Congolese collaborators.
Security top brass reassured Congolese people that all security services remain on high alert in order to relentlessly continue the work of dismantling all these networks of Rwandan criminals who are visibly working to make the DR Congo insecure and to destabilize its democratic institutions.
The Vice-Minister of the Interior reiterated the call for VIGILANCE and DEFENSE OF THE HOMELAND launched by President of the Republic, Head of State, Félix-Antoine TSHISEKEDI TSHILOMBO to support the ongoing efforts of the Security force in this period of external aggression of DR Congo by Rwanda under the tag of M23.
———————————————————————————————————–
N.B: you can follow me at – Robert Patrick Fati Gakwerere page (Facebook page), @RGakwerere (tweeter),  https://twitter.com/RGakwerere?s=08 or at my blog – rpfgakwerere.org.
However, for those in the enclave – Rwanda, the blog rpfgakwerere.org was blocked by the junta regime, it can't be accessed unless you are using VPN.