By: Robert Patrick Fati Gakwerere
Very concerned about the security situation in the DRC, Russia says it is ready to help fight all the armed groups that roam the east of the country, in particular the M23 terrorists.
This is what the Russian ambassador to the DRC said, at the end of his audience granted to him by the Deputy Prime Minister, Minister of Defense, Jean-Pierre Bemba, Thursday, April 20 in Kinshasa.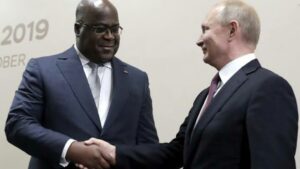 "Russia is ready to give all its help to the DR Congo in the fight against armed groups. We are really very interested in the cessation of the activities of all armed groups in eastern DR Congo, so that peace can be restored there. And especially so that the sovereignty of the DR Congo can be essential and secured in this part of the country," declared the Russian ambassador, Alexey Sentebov.
According to him, his country expects to continue its military cooperation with the DR Congo to restore peace in the east of the country. "We are very interested. And we also talked about the Congolese side's interest in promoting our military cooperation," he said.
Alexey Sentebov also recalls that a year ago, Russia granted "very significant aid to the DR Congo. This is a very important batch of weapons and ammunition currently used by the FARDC in the Eastern part of the country, especially in combat against terrorist armed groups ".