By: Rpf Gakwerere
The enclave's dictactor dictactor who loves jetting around the courtesy of oppressed and enslaved tax payers, his now arrived in Lusaka, Zambia from Maputo – Mozambique.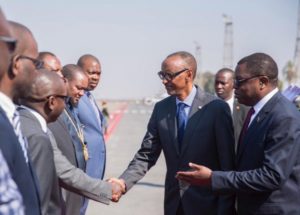 This is a dictactor who cannot spend two weeks in his potato enclave without making a useless and waste of resources foreign trip. While the potato enclave is facing economic and social challenges, with high levels of unemployment and famine engulfing the potato enclave; Criminal Paul Kagame alias Pilato is still jetting around the world like a king from a petroleum rich nation.
For the skinny dictactor, Rwanda is a personal property and citizens are merely slaves to be oppressed.