By: Rpf Gakwerere
In the photo below, criminal Paul Kagame was in Senior 2 at Ntare school. According to those who know this photo very well, the Photo was taken on stair step at Mbaguta house, Ntare School. One of Ntare School dormitory.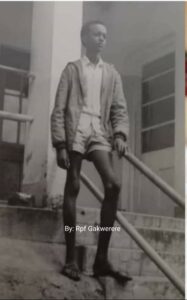 At Ntare School, he was nicknamed Kagosi, and all his Ntare School OBs know him for always fighting with other students and in love of what Ntare School boys called then Kisyanga/Cisyanga/Cyisyanga (millet porridge) mixed with butter. Up to now, criminal Paul Kagame is still in love with millet porridge.
Kagosi hates Kahunga (posho) and beans with passion, according to him, they always give him stomach ulcers. During the NRA/M liberation struggle, the bloodthirsty assassin – criminal Paul Kagame alias Kagosi avoided frontline and he was sent at NRA's screening section due to his cowardice cries of being an ulcer sufferer. His frontline cowardice will be a discussion for another day.
The picture below was taken in Senior 2, a year before his Senior 3 adventure, a love adventure that took teenage Kagame to be extremely obsessed with a beautiful girl young girl at Maryhill high school, name withheld because she is currently married with grown up kids and grandchildren. This girl, now mother and grandmother is still alive.
However, this girl refused Kagosi's horny advances, but Kagosi didn't give up. He continued running after this girl until when the girl got married, she got married to one of Criminal Paul Kagame's Ntare School OB, a person that the brutal skinny dictator knew very well from Ntare School days. Despite trying all sorts of tricks even when he had become the ruler of the enclave, the girl (now a grandma), refused criminal Paul Kagame's advances or to cheat on his husband as very many oppressed and enslaved souls are always cheating on their husbands and willingly serving their Yooyoos to Kagosi in the name of appeasing Satan for all sorts of favours.
According to those who studied with Criminal Paul Kagame at Ntare School, in his Senior four, young Paul Kagame was a very notorious bully, always bullying Senior one and Senior two students.
Recently, a retired military officer who was behind criminal Paul Kagame at Ntare School told me, "Paul has always been an evil person, a very nasty bully who was always hitting us for totally nothing. Our Senior 1 experience was a miserable because of Paul Kagame and his friends."
His extremely poor background in Kahunge, Kamwenge, Uganda did not turn him into a humble person, a kind hearted person, a person who has love for humanity – mankind, but the harsh life turned Paul Kagame into a bloodthirsty killer, a greedy looter with extreme thirst for acquiring wealth at all cost, a liar, a hypocrite and a person traumatised by his upbringing, fearful of being poor again.
Remember, criminal Paul Kagame alias Kagosi is a public figure, living on tax payers' cash, therefore I have absolute rights to write on any info I get about his background, his dirty or good behaviours, on his criminality, corruption, looting, kidnappings, poisoning, torture or killings.
———————————————————————————————————–
N.B: you can follow me at – Robert Patrick Fati Gakwerere page (Facebook page), @RGakwerere (tweeter) https://twitter.com/RGakwerere?s=08 or at my blog – rpfgakwerere.org.
However, for those in the enclave – Rwanda, the blog rpfgakwerere.org was blocked by the junta regime, it can't be accessed unless you are using VPN.