By Rpf Gakwerere
The enclave's brutal dictactor is in Mozambique to attend a peace signing between the FRELIMO government and RENAMO, which is a Mozambican National Resistance, a militant organization and political movement which has been opposing FRELIMO led government since 1975.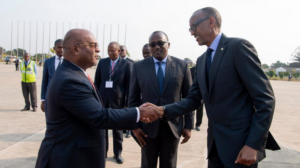 Today, the enclave's skinny and totally brutal dictactor arrived in Maputo, Mozambique for the Signing Ceremony of the country's Peace and Reconciliation Agreement. Imagine a brutal dictactor attending such a honourable function!
For Criminal Paul Kagame, a nasty and brutal dictator who hates any form of peace, freedoms, human rights and political negotiations; attending this signing ceremony in Maputo, Mozambique, it's beyond belief and extends to question if criminal Paul Kagame is mentally stable.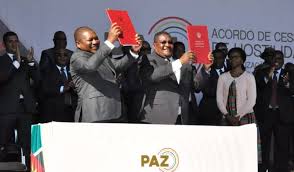 The key theme of this ceremony were peace and reconciliation, two concepts which aren't in criminal Paul Kagame's DNA.
Did criminal Paul Kagame travel to Maputo, Mozambique due to his love for the air? Constantly jetting around the world, or he has travelled to Mozambique as a cover to transport special force assassins in that country? Especially when you consider numbers of opposition figures living in Maputo, Mozambique.