By: Seruga Titus
Rwanda expelled two high level Belgian diplomats for organising a ceremony to remember Belgian Soldiers that died during the Rwandan crisis that resulted into a genocide against Hutus and Tutsis.
Pilato has rules Rwanda on a narrative that Hutus are bad people that killed over 800,000 Tutsis in 1994, the reality of the matter was that on 6th April Paul Kagame Aka Pilato's forces assassinated the Presidents of Rwanda and Burundi who were traveling back to Kigali from peace talks in Arusha.
It's widely known in international intelligence circles that Paul Kagame ordered the shooting down of a plane with two Presidents of Rwanda and Burundi, France made attempts to bring justice to this matter as an interested party having lost two of their pilots in this plane but sympathisers of Kagame believed it wasn't the time for justice yet.
Unfortunately for Paul Kagame people with him that time no longer side with him therefore very confidential information is out for everyone to read about what really happened. Facts are coming out that indeed many Hutus were murdered immediately after PRA took power, most of these massacres have been documented to preserve evidence, the world is starting to open up to the real truth.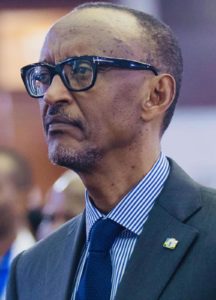 Rwanda claimed that the two diplomats decided to celebrate the lives of Belgian Nationals on the 6th April which coincides with the date of the shooting down of the plane. To dictator Paul Kagame this is criminal, it's also criminal in Rwanda to suggest that Hutus were equally killed during and after the crisis.
It should be remembered that the international community intends to investigate reports that RPA killed many Hutus in retaliation after taking over power, the Rwandan rebel forces were trying to reduce Rwanda's Hutu population allegedly to balance the Equation.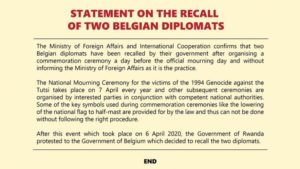 Recently UK and the US came out to join France in saying the narrative that Tutsis were killed in the Genocide should be changed all lives should be celebrated without discrimination based on tribe which annoys Kagame because this would mean that Hutus will also demand justice, who killed them and on whose orders? Belgium has since maintained silence in this matter, Rwanda's latest protests to Belgium is a sign that Paul Kagame is kind of dictator decides to manipulate situations for his own benefit.
#theinformant
Where Credibility Matters