By: Rpf Gakwerere
Dear oppressed, enslaved starving and unemployed Rwandans, Gen Patrick Nyamvumba and Maj Gen Joseph Nzabamwita are in a bad shape at a safe house.
With a bible in my right hand, I can confirm to oppressed and enslaved Rwandans that the above house boy Generals were taken on Saturday, 30th May 20, at a safe house in Nyarutarama.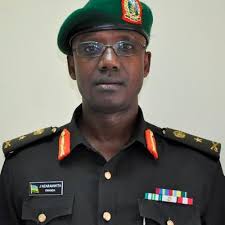 On Saturday, 30th May 20, I posted on my Facebook timeline asking, "Maj Gen Joseph Nzabamwita are you safe?" All these days I was still crossing checking the validity of the information, and I can now confirm the two house boy Generals are being incarcerated in a safe house and undergoing torture under the supervision of Brig Gen Willy Rwagasana and Brig Gen Ruki Karusisi.
STATE GOONS AND MINIONS HAVE MOVED FAST IN REMOVING PHOTOS OF GEN PATRICK NYAMVUMBA FROM THEIR SOCIAL MEDIA PROFILES.
Criminal Paul Kagame's greedy – selfish goons and inept minions spent years using Gen Patrick Nyamvumba's different photos in their social media profiles, and when Criminal Paul Kagame went after him, all these selfish, greedy and coward minions changed their profiles removing the photo of Gen Patrick Nyamvumba from their respective social media profiles.
Will these goons and minions who used to praise Gen Patrick Nyamvumba come out to denounce his incarceration and psychological torture that his currently going through at a Presidential guard safe house in Nyarutarama? Obviously don't expect that, instead they will praise everything that is being done on him courtesy of Criminal Paul Kagame.
Hypocrisy and evilness are at the centre of the satanic regime ruling the potato enclave (Rwanda). State minions and goons praised Gen Nyamvumba days and nights, and now, they have melted away when the deranged dictator – Paul Kagame went on a person whom they yesterday praised days and nights.
Below, a photo of Gen Patrick Nyamvumba which was always used by state goons and minions while praising the military officer.