By: Rpf Gakwerere
The picture below was taken yesterday, Louise Mushikiwabo the current Secretary General of OIF meeting the president of Gabon – Ali Bongo Ondimba. The picture says it all.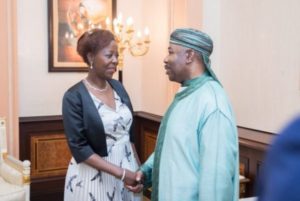 Remember, President Ali Bongo Ondimba is in the other list I told you about. The bang bang list.
As criminal Paul Kagame's long time foreign affairs minister, Louise Mushikiwabo had a military intelligence role she was playing rather than being a foreign minister. Her diplomatic manoeuvres were 100% directed and choreographed by DMI.
She had no single clue, training or experience in foreign policy or diplomacy; but she provided a crucial and essential role for the brutal SATANIC SYSTEM, she was an intelligence gathering and information dissemination tool for the SATANIC SYSTEM, especially the intelligence wing.
Being the Secretary General of OIF, it's a DMI posting, reasons criminal Paul Kagame spent the country's resources campaigning for her. And why she won the elections, it's a topic of another day, but senior members within the SATANIC SYSTEM know the reasons she won the Secretary General post in the Organisation internationale de la Francophonie (OIF) elections.
You shouldn't forget that Louise Mushikiwabo was recruited from the streets of New York by the late Col Patrick Karegeya, who was assassinated by criminal Paul Kagame in December 2013 in South Africa.
AS I ALWAYS SAY, IN CASE LT COL PATRICK KARURETWA AND BRIG GEN WILLY RWAGASANA SURVIVE PRO PEOPLE REVOLUTION, THEY WILL HAVE FASCINATING STORIES TO TELL THOSE THEY HAD OPPRESSED AND ENSLAVED. INFORMATION FROM THESE TWO MEN WILL BE HOT CAKE FOR THE FUTURE GENERATION.