By: Godwin Agaba
The mystery of Muhoozi Kainerugaba, the first born son of Uganda's President Yoweri Museveni, and his interest, if any, in stepping in his father's shoes keeps popping its head every few seasons. It started as a rumour peddled by power hungry individuals who wanted to succeed Museveni but always saw the recalcitrant Muhoozi as a threat due to his fast rise in the military ranks.
Prominent personalities who have "gossiped" about the matter include Flt. Capt. Mike Mukula, a former State Minister of Health and Vice Chairman of NRM for Eastern region, Gen. David Sejusa (who in 2013 fled the country to Europe) claiming that his life was in danger for opposing what he term as the "Muhoozi Project"; former Prime Minister, Amama Mbabazi's camp also led with the claim as he vied for the Presidency in 2016.
The suggestion is commonly propagated by the Opposition whose attempts to defeat Museveni have fallen flat and they have consequently resorted to targeting his son as a way to cope with the father's seemingly unstoppable power wagon. Their prayer is that after Museveni, his soldier son should not succeed him because their chances would have gone to the wind despite the fact that term the age limit cap n olonger exists in Uganda's laws.
So, when city pastor, Joseph Kabuleta, who calls himself the "Watchman" and has a sizeable following which converges for prayers and apocalyptic teachings at Lugogo in Kampala, came up with a regular feature on his social media accounts in which he attacks Museveni and recently zeroed in on Muhoozi, he was speaking the tongue of people who see the first son as the power behind the throne of his father and a pillar in some sort of "power trinity". This is despite Muhoozi's previous denial that he was interested in succeeding his father.
Kabuleta is an age mate of Muhoozi and they both hail from the Western part of the country. But their careers are worlds apart, one a military general at the rank of Lieutnant General and the other, a former sports journalist and now preacher. There is credible suspicion that Kabuleta is working with and for foreign interests hell bent on undermining Museveni and stirring public sentiments against him riding on the claim that he wants to entrench his family on top of Ugandan affairs as part of a life presidency scheme and an alleged "Hima dynasty" plot. Museveni's enemies also know that he treasures his family as a strict Christian family man and one way to hurt him is to drag them into the spiteful fray of politics. Dragging his name into to the ring of fire is an act akin to how terrorists hit where it hurts most rather than facing regular forces in the battle field.
Not that Muhoozi does not have "supporters" who wish for him to vie for the top office; he is receiving blows as "collateral" for his father's struggles, himself being a laidback, laconic officer who rarely makes public appearances and never hurls personal attacks on any one. But if pastors are going native, it wouldn't surprise if a general decided that enough was enough and claimed back his image.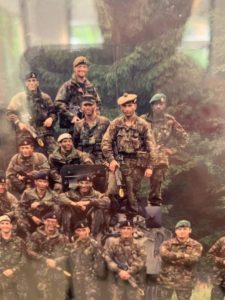 But Muhoozi is not the first son to ever live. There are examples abounding of first sons who have followed in line to their fathers and the father may have a say in the process or not.
In USA, one of the most advanced democracies, George Walker Bush, became a two-term President after his father, George Bush Sr. They were separated by a Bill Clinton presidency. If Bush Jr was decampaigned a lot and lost some votes, it was because American voters didn't want anything to do with family rule. But Bush triumphed and served for two terms between 2001 and 2009. Not only that, his brother Jeb Bush, is a leading figure in the Republican party although he failed to make it, hammered down by now President Donald Trump.
In Libya, Saif Al Islam, the son of late ruler, Muammar Gaddafi, was long considered as a successor in waiting during his father's lifetime. When Gaddafi was taken out and killed in 2011, Saif himself survived the same fate but was jailed by his father's killers. Today, the tide has changed and he is a frontrunner to lead the country as Libyans plead for the Gaddafi family to "come back" and put things back to order.
In Kenya, President Uhuru Kenyatta, the son of independence leader, Mzee Jomo Kenyatta, has served two successive terms and is at an all-time high in popularity ratings so much so that some voices want the country's Constitution amended to enable him stay in power after the current term.
In the Philippines, President Duterte has his three children in leadership, with the daughter, Sara Duterte, being Mayor of the City of Davao and touted as a likely successor to her father and with a sizeable following thanks to her own competencies and the ability to stand on her own feet.
In most cases, being a child of a leader does not disadvantage one's chances of beating their own career path in the same or different direction. Rather, it provides a head start.
For Muhoozi, there is nothing in law or custom that stops him from vying for any position. Not even his father! "Accusing" him of harbouring ambitions to become President or being groomed for the same is an admission of failure on the part of his accusers to provide alternative leadership, thus transferring their fire from the "elephant" to the "calf".
Whether Muhoozi succeeds his father or not will not be determined by his DNA but his ability to work through the maze the way he has done within the army where he is at the second highest rank having started out as an LDU when LDUs mattered least.
(