By: Rpf Gakwerere
Dear oppressed, enslaved, starving and unemployed Rwandans, according to my reliable sources within the Satanic system ruling the potato enclave, the incarceration of Robert Bayigamba, the former minister of youth, sport and culture in dictator Paul Kagame's satanic regime is concerned with Rujugiro Tribert file than the fabricated charges the satanic regime is peddling around.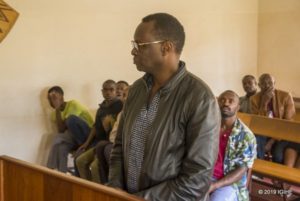 Robert Bayigamba was arrested on 22nd/10/19, by officers from Police's counter terrorism unit led by a notorious senior J3 operative – CP Denis Basabose.
Mzee Robert Bayigamba was a managing director of MANUMETAL a company owned by Mzee Tribert Rujugiro. And for years, criminal Paul Kagame and his satanic system have harassed, incarcerated, tortured and eliminated anyone suspected of being in contact with Mzee Tribert Rujugiro, an innocent man who has been blacklisted for elimination at all cost under the orders of criminal Paul Kagame.
Robert Bayigamba is a victim of criminal Paul Kagame's hate and detest against Mzee Tribert Rujugiro. For all his professional career, and different institutions that he served mostly being private, Robert Bayigamba's integrity, honesty and trust were always part of his professionalism. Now, the satanic system that he once served, has decided to incarcerate him under false and fabricated charges.
—————————————————————————————————
N.B: you can follow me at – Robert Patrick Fati Gakwerere page (Facebook page), @RGakwerere (tweeter) or at my blog – rpfgakwerere.org.
However, for those in the enclave – Rwanda, the blog rpfgakwerere.org was blocked by the junta regime, it can't be accessed unless you are using a VPN.