By: Rpf Gakwerere
Since 2010, after the fleeing of Gen Kayumba Nyamwasa, dictactor Paul Kagame steadily started to get rid of senior military officers who originated from Uganda.
After the RPF/RPA liberation war in 1994, Rwanda was flooded with returnees from different parts of the world and nicknames were created by boys from ghettos to tag people to where they came from. Those Rwandans who returned from Burundi were referred as GP, those who came from DR Congo were referred as Dubai, those from Uganda like criminal Paul Kagame were referred as basajya (sajya) and those from TZ were referred as baswahili, those born and grew in Rwanda were referred as sopeca (abasope)….etc.
After the 1994 RPF/RPA liberation struggle, those Rwandans from Uganda occupied all key posts, both in the military and government. With time, as criminal Paul Kagame's grip on power strengthened, he started eliminating and removing one by one, of individuals he perceived as challengers, and in this case, comrades that he came with from Uganda. Since they were the ones ruling the country alongside criminal Paul Kagame.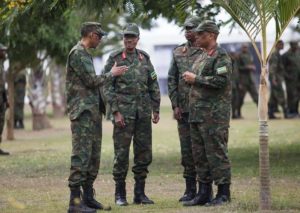 Criminal Paul Kagame's operation to get rid of his fellow sajya men has been cunning, deceitful, meticulous and highly brutal. After the capture of power in 1994, Criminal Paul Kagame conducted five simple steps to get rid of his fellow sajya men.
1) He started by eliminating key charismatic operational commanders that had led troops to capture of the country. He started with the brain behind the RPF/A military campaign, Col Steven Ndugute. Col Steven Ndugute who was the master planner and overall military strategist was
heartlessly eliminated. His deputy in the strategic RPF/A military planning, Col Lizinde Théoneste was made to flee the country and later tracked down in Kenya where he was gunned down in a hell fire of bullets. Col William Bagire, Col Charles Ngoga, Col Alex Kanyarengwe…etc; were all systematically eliminated to pave way for criminal lPaul Kagame's kingship.
2) Those key charismatic military commanders that he didn't eliminate, the cunning dictator forcefully character assassinated them through DMI fabrications and later demobilized them between 2000 to 2002, i.e Lt col Fred Nyarurangwa, a military officer credited with capture of part of Kigali, Maj Gen Sam Kanyemera Kaka, Lt Col Gaddafi….etc.
3) As he did the above manoeuvres, criminal Paul Kagame was promoting and appointing sajya men within his protection team to key military positions i.e Gen James Kabarebe, Gen Jack Nziza, Gen Charles Kayonga, Jean Bosco Kazura, Col Faustin Kalisa, Lt Col Shema Charles, Col Silas Udahemuka, Col Rose Kabuye, Gen Patrick Nyamvumba, Gen Frank Mugambage, Gen caesar kayizari…..etc.
4) In 2010, after Gen Kayumba Nyamwasa fleeing the potato enclave, criminal Paul Kagame's paranoia towards those high ranking military officers that where born and raised in Uganda increased, thus his well thought through plan of starting to promote lower ranking military officers from Burundi.
From 2010 to 2015, they were pick years for criminal Paul Kagame's estranged wife, Jeannette Kagame Gasana. She had both political and military influence, she was an appointing authority in her own rights. She was the "vice president" alongside treacherous assassin Gen James Kabarebe. Embedded with hate against everything Sajya, Jeannette Kagame Gasana who was born and grew in Burundi started identifying Burundi born boys within Rwanda Defence force for fast tracking in extra military training and military rank promotions. Through her extended network within Rwandan communities that lived or still live in Burundi, Jeannette Kagame Gasana embarked on recruiting boys from Burundi to join the presidential guard and special force divisions.
Due to paranoia, criminal Paul Kagame came to a conclusion that GP, those born and raised in Burundi aren't ambitious, not power hungry and loyal to him. The first move by the Kagames was the clean the power full presidential guard Brigade and make it free from sajya men.
Jeannette Kagame Gasana's first move was to sideline the head of the presidential guard, Col Tom Byabagamba. The long serving head of the presidential guard and a Kagamist loyalist was shipped out of the presidential guard and later imprisoned under fabricated charges. He is now incarcerated at Kanombe military barracks. And Jeannette Kagame Gasana's smart wire (her yooyoo eater), Brig Gen Willy Rwagasana, born and raised in Burundi is now heading the all powerful Presidential guard Brigade which currently has the size of a division.
5) The final episode has been moving against those former escorts from Uganda that he had previously trusted, promoted and placed in strategic positions. They are now excesses, served their usefulness and no longer required. Criminal Paul Kagame has systematically sidelined them, and if any of them is suspected of whinging death will be knocking at their door step.
The 3rd of November 2019 military reshuffle finalized the purge against Sajya men, as Criminal Paul Kagame appointed Burundi born boys in key strategic positions.
How Burundi born boys have been appointed by criminal Paul Kagame in key strategic positions:
1) Chief of defence staff: Gen Jean Bosco Kazura, born and grew in Burundi.
2) Head of Presidential guard: Brig Gen Willy Rwagasana, born and grew in Burundi. Brig Gen Willy Rwagasana is defacto vice president of the potato enclave and coordinator of military and intelligence operations. All military and intelligence information passes through Willy Rwagasana before it reaches criminal Paul Kagame, especially when the junta is in his useless and endless foreign trips. Even, the CDF/S reports and briefs to Brig Gen Willy Rwagasana than the other way round.
3) Head of Directorate of military intelligence (DMI), currently re-branded as Defence Intelligence: Brig Gen Vincent Nyakarundi, born and grew in Burundi. Criminal Paul Kagame's survival has been built around the deadly intelligence body – DMI. In the ruling hierarchy, after Kagame, it's DMI not the RPF. And this pillar of criminal Paul Kagame's survival is currently under the hands of Burundi boys.
4) Head of Special forces: Brig Gen Ruki Karusisi, born and grew in DR Congo, second in command Col Emmanuel Kanobayire.
5) Head of artillery division: Col Jules Rwirangira, born and grew in Burundi. All his army career, from RPF/A liberation struggle, the young Col Jules Rwirangira has been in the artillery. The man breathes and speaks military artillery science.
6) The head of Reserve forces: Gen Fred Ibingira, born and grew in Uganda, alongside the appointment of Gen Fred Ibingira as Reserve Force chief of staff, criminal Paul Kagame appointed his trusted boy, Maj Gen Innocent Kabandana as his deputy and to keep a close eye on Gen Fred Ibingira. Maj Gen Innocent Kabandana was born in Rwanda, and grew up in both Rwanda and Burundi. His family were friends to Jeannette Kagame Gasana's family.
7) Head of Rwanda's Directorate General of Immigration and Emigration: The youthful Lt Col Francois Regis Gatarayiha, born and grew in Burundi.
8 Minister of Defence: Major General Albert Murasira, born in Rwanda, grew in DR Congo and joined Dictator Juvenale Habyarimana's army. Major Gen Albert Murasira is highly trusted by criminal Paul Kagame. Like Burundi boys, criminal Kagame sees him as a man with no single ambition for his chair. And since his appointment, Maj Gen Albert Murasira embarked on building a new army that reflects criminal Paul Kagame as a "god."
9) Ministry of defence's Permanent Secretary: Lt Col. Innocent Gashugi, born and grew in DR Congo. He was shipped from the presidential guard to keep an eye at the ministry, and he directly reports to Brig Gen Willy Rwagasana.
If time permits, next time we shall be looking at how Burundi and DR Congo born boys are eating big in the police force, as criminal Paul Kagame throws out Sajya men and their kamanyiro (familiarization.) Criminal Paul Kagame has slowly, but cleverly and ruthlessly trimmed the Kajanjya – rugezigezi of Sajya men.
WILL THE SAJYA BOYS GO QUIETLY? TOTALLY NOT, JUST KEEP WATCHING AND FOLLOWING. THE POLITICAL AND MILITARY CHESS GAME WITHIN THE SATANIC SYSTEM IS SOON TURNING BRUTAL AND BLOODY. DON'T FORGET TO QUOTE THE CORPORAL WHEN THIS HAPPENS.
—————————————————————————————————————————
N.B: you can follow me at – Robert Patrick Fati Gakwerere page (Facebook page), @RGakwerere (tweeter) or at my blog – rpfgakwerere.org.
However, for those in the enclave – Rwanda, the blog rpfgakwerere.org was blocked by the junta regime, it can't be accessed unless you are using a VPN.