By: Rpf Gakwerere
Issa Niyirora, a Rwandan trained military operative and his group where arrested by regional security operatives on their way to join dictator Paul Kagame's outfit, ADF.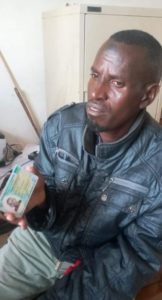 The terrorist outfit – Alliance Democratic Front (ADF) was totally annihilated in 2016 by Uganda People's Defence Force (UPDF) with the group's top commanders killed or arrested, and the group's spiritual leader Sheikh Jamil Mukulu arrested. The ADF as anti Museveni establishment rebel group doesn't exist at all, we currently have Kagame's special force units using the ADF name.
Now, what we are witnessing in Eastern DR Congo, especially in Beni region, it's Criminal Paul Kagame's special force units using ADF logo to cause carnage in DR Congo, plunder DR Congo resources and plan – prepare for future military operations against Uganda.
Criminal Paul Kagame's special force units under the logo of ADF are well established along DR Congo – Uganda border, and numbers of Kagame's troops are increasing each day along this military axis.
Criminal Paul Kagame is using the name of a terrorist rebel group which was destroyed and no longer exist to further his regional terrorism agenda.
—————————————————————————————————————————
N.B: you can follow me at – Robert Patrick Fati Gakwerere page (Facebook page), @RGakwerere (tweeter) or at my blog – rpfgakwerere.org.
However, for those in the enclave – Rwanda, the blog rpfgakwerere.org was blocked by the junta regime, it can't be accessed unless you are using a VPN.