By: Rpf Gakwerere
Adolphe Muzito a former Prime Minister between 2008 to 2012 and currently coordinator of opposition block – Lamuka said yesterday, Monday that, "the only way to restore peace in eastern DR Congo is to annex Rwanda such that it becomes part of part of DR Congo." He made the comments at press conference.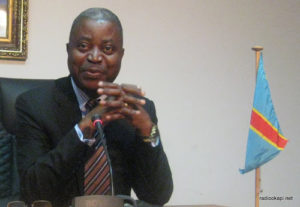 Adolphe Muzito was also a former economic (Budget) minister of DR Congo. Adolphe Muzito was also a member of the Unified Lumumbist Party (PALU).
In his long analysis on DR Congo's insecurity, Adolphe Muzito notes on Rwanda's interfere in internal matters of DR Congo. He blamed DR Congolese political elites of being corrupt, and this being the main reason in allowing Kigali to interfere in its internal matters. He talked on mismanagement and underfunding of DR Congo army by political elites.
Adolphe Muzito told the gathering journalists that, "we all know the creator of insecurity in Eastern DR Congo and orchestrators of this insecurity." He further noted, "Rwanda has the rights to do business with DR Congo, as Chinese, Indians, Angolans and other countries do it with DR Congo, through the rights channel. But they have always decided to use illegal channels bring devastating consequences for the country." "Insecurity in DR Congo won't stop until we attack the source, Rwanda and if possible annex the country." The former Prime minister noted.
This stand by Adolphe Muzito did not start yesterday, for those who have been following geopolitics know very well that it's this stand against external interference, especially against Criminal Paul Kagame's interference in DR Congo's internal matters that led to president Joseph Kabila to remove him as a prime minister in 2012.
It's important to note that those Congolese who had the same ideology as Adolphe Muzito ended up being eliminated by criminal Paul Kagame's Directorate of Military Intelligence (DMI). Notably, the late president Laurent Desire Kabila and Colonel Mamadou Ndala who were brutally assassinated for merely opposing criminal Paul Kagame's interferences in DR Congo, especially the plundering of the country's natural  resources by criminal Paul Kagame and his cohorts.
—————————————————————————————————————————
N.B: you can follow me at – Robert Patrick Fati Gakwerere page (Facebook page), @RGakwerere (tweeter) or at my blog – rpfgakwerere.org.
However, for those in the enclave – Rwanda, the blog rpfgakwerere.org was blocked by the junta regime, it can't be accessed unless you are using a VPN.