By: Rpf Gakwerere
Ambassador MUKANKUSI Charlotte's husband – Alphonse Rutagarama was brutally assassinated under direct orders of criminal Paul Kagame. Now, the same junta government is tracking her for elimination. Her only crime is questioning human rights atrocities, economic plundering and suppression of freedoms taking place in the impoverished potato enclave (Rwanda).
Alphonse Rutagarama refused to work for DMI in it's grand plan of tracking and eliminating Gen Kayumba Nyamwasa. For months, DMI had tried to recruit him, but Alphonse Rutagarama who was a businessman and a farmer totally refused, his refusal to work for the state/DMI led to criminal Paul Kagame's approval to assassinate an innocent man in 2012.
Before his assassination, Alphonse Rutagarama spent four months of being called by different security agencies for interrogations, especially on Gen Kayumba Nyamwasa and why his refusing to work for external intelligence. He was always called for interrogation by Maj Gen Jack Nziza, Maj Gen Emmanuel Gasana, Brig Gen Dan Munyuza and Col Franco Rutagengwa. In all the offices, the questions and what he was being told were all the same.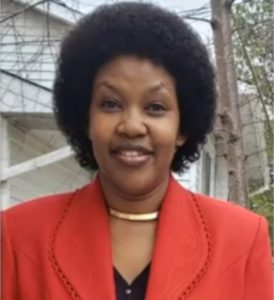 Alphonse Rutagarama's wife, ambassador Charlotte Mukankusi managed to flee from the brutal dictatorship, and once she arrived in Canada, she started giving testimonies on her husband's brutal assassination, her persecution and other excesses of criminal Paul Kagame's dictatorship. Her constant questioning of the system has elevated her profile to the top of the blacklist of those being hunted down by DMI.
Charlotte Mukankusi is currently Rwanda National Congress's commissioner for diplomacy, and her names are in category file A, these are innocent people who are supposed to be eliminated at all cost and by all means necessary.
Currently, DMI is following it's usual model of operation. Character assassination through fabricated storylines, criminalizing through fabrication of forgery files, and then assassination. Ambassador Charlotte Mukankusi is a potential target for elimination at all cost.
Ambassador Charlotte Mukankusi was a director general in the prime minister's office, Rwanda's ambassador to India and Permanent secretary in the ministry of public service and labour.
————————————————————————————————————
N.B: you can follow me at – Robert Patrick Fati Gakwerere page (Facebook page), @RGakwerere (tweeter) or at my blog – rpfgakwerere.org.
However, for those in the enclave – Rwanda, the blog rpfgakwerere.org was blocked by the junta regime, it can't be accessed unless you are using VPN.