By: Rpf Gakwerere
In a WhatsApp audio to his close friends in diaspora, assassinated gospel singer Kizito Mihigo noted, "all those who participated in my miseries or planning to take my life will never have peace in this world. I know I will be killed, but God has promised me the wrath which will follow those who have participated to my miseries will be unimaginable. Last night I had a vision instructing me to fast for 40 days."
After the assassination of gospel singer Kizito Mihigo, DMI operative Burasa Jean Gualbert noted, "another enemy gone, this isn't a time to cry but to celebrate. If you play with fire you should expect the consequences."
If there is anyone who traumatised assassinated Gospel singer Kizito Mihigo, senior DMI operative Burasa Jean Gualbert comes on top. Senior DMI operative Burasa Jean Gualbert didn't only traumatise Kizito Mihigo, but has traumatised thousands of Rwandans without sparing dignitaries and citizens of the greatlakes region. President Museveni, President Nkurunziza, President Jakaya Kikwete..etc, weren't spared either by Burasa Jean Gualbert.
Burasa Jean Gualbert is the editor in chief of criminal Paul Kagame's owned media outlet – Rushyashya. It is a notorious media outlet that criminal Paul Kagame's intelligence services uses for malicious misinformation and disinformation, slander, lies and more especially intimidations. Through Rushyashya media outlet, DMI operative Burasa Jean Gualbert has celebrated kidnappings, incarcerations, torture and assassinations of innocent people.
After the assassination of Col Patrick Karegeya by Directorate of Military Intelligence (DMI) on the night of 31st December 2013, Burasa Jean Gualbert noted, " I have just received the best new year gift. Col Karegeya is dead." Senior DMI operative Burasa Jean Gualbert has celebrated miseries, sufferings and deaths inflicted upon innocent citizens by a brutal satanic regime that he served. He mocked orphans, widows, family members and friends of those who have lost loved ones at the hands of criminal Paul Kagame's brutal regime.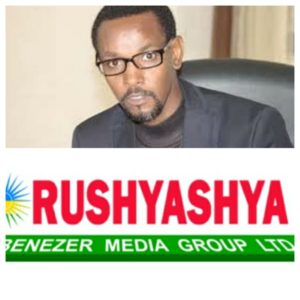 Just talk the name Burasa Jean Gualbert, even Criminal Paul Kagame's supporters will profile him in evil callous light. For innocent citizens who have met his wrath under DMI tag, the name Burasa Jean Gualbert brings tears and prayers to almighty God for a deserving punishment.
On Monday, 20th April 20, Burasa Jean Gualbert got a serious stroke and he was rushed to CHUK hospital and later transferred to King Faisal hospital in Kigali. He arrived at the hospital while unconscious, and yesterday, 23rd April 20, he had a brain operation. According to those close to him, his stroke was caused by blood clot in the brain.
Since 2002, when death merchant Jack Nziza recruited him, Burasa Jean Gualbert became a critical asset in DMI operations. At this time, death merchant Jack Nziza was still a colonel and intelligence supremo, heading criminal Paul Kagame's terrorism organisation – DMI. Over the years, Burasa Jean Gualbert became an integral asset of DMI to the extent of having access to criminal Paul Kagame.