By: Spyreport
● He locked up a dozen of independent minded journalists and terrified others into keeping quiet, following a major fall out with his top RDF commanders because of fear of information coming out in the open.
● He disappeared from the public for three weeks, when other leaders were making weekly briefings to give their citizens confidence. No one knows where Paul Kagame was hiding.
● However, it has now emerged that he was fearful of his Generals whom he has oppressed to the extent of some of them failing to pay tuition for their own children.
● His hiding place has been spending most of the time airborne, moving from conference to conference, business forum to business forum, and any other random "Investmentor's financial forecast" reviews out there. This time, Coronavirus locked him down in the same town with his Generals where his space became too small, he first disappeared to study the situation.
● While still in hiding he sacked Gen. Nyamvumba through an instrument that was signed by the Prime Minister Dr Édouard Ngirente. All Coronavirus measures and the appointment of Nshuti Manasseh were all signed by the Prime Minister on the President's behalf, a method of work new in Paul Kagame's Rwanda.
● From his hiding place he planted a rumour in Europe, specifically in UK that he was admitted in one of the hospitals. The rumour was followed with another that suggested that those who saw him at the airport being airlifted, said there was no way he would survive. Some Rwandans believed it, but not RDF senior officers for which the deception was directed. It was a trap against any who would make a move or even say a word.
● From his hiding place again he passed a decree that prevented all RDF officers at the rank of Colonel and above not to communicate or meet. Many were not supposed to leave their houses.
● When he finally emerged, he begun spending a single night in three places as we shall later explain. As of now, he still disappears without any trace since his cars are mostly maintaining a difficult schedule and routine, when he is actually else where, a place known to some RDF individuals.
● Ever since the assassination of Kizito Mihigo, a famous Rwandan gospel singer, Rwanda became a very hostile place for the Paul Kagame.
● This was a follow up to another setback for a President well known for his brutality to his people and neighbours, when his then Chief of Defence Staff Gen. Patrick Nyamvumba advised his Commander In Chief to stay his invasion of Burundi, owing to his analysis that the region would not accept such campaign even if they were to disguise it in the most sophisticated of ways, under the rebel group, Red Tabara.
Even when he listened and decided to support the rebel outfit to invade Burundi using South Kivu, he still went ahead and sacked Nyamvumba as CDF, through a transitional office as Minister of Security as he prepared to completely disengage him and slap an investigation on him on issues to do with accountability. In Kagame's Rwanda, this could end up becoming treason depending on how power dynamics evolve in the country.
● Treason is likely especially because Patrick Nyamvumba is being accused of facilitating a meeting between two General Officers of RDF to hold a meeting that was meant to execute a coup d'état against Paul Kagame during the lockdown period.
● This is said to be the reason Nyamvumba's transition ( in a Ministry without an address, budget or mainstream responsibility) lasted a short time.
● Suffice it to say that, Paul Kagame has royalists who are hunting down General Officers he thinks are after him. However, unlike before, RDF Officers are not willing to die, either immediately or in prison through torture or poisoning.
Some commentators have said that Nyamvumba and Kagame are close and that they are involved in some kind of deceptive operation. However we believe Nyamvumba, who is responsible for many crimes, including commanding RPA in Kisangani, where he flouted basic rules of engagement to gain advantage over UPDF, ( Paul Kagame was breathing down his neck), was completely changed by the time he spend with UNAMID as commander. He got an opportunity to experience what the responsibilities of a non criminal army General, conduct, the respect he commands and that Generalship is not necessarily about war but also peace, research, global security challenges other than wars etc. From when Nyamvumba was made CDF in Rwanda, he was going to fail because RDF's main ideology is to protect the so called Tutsi hegemony on paper and Paul Kagame in reality. What Gen. Kabarebe articulated about the role of RDF, is something Nyamvumba would never say.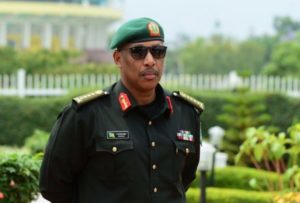 He refused to get engaged in a war of words in Uganda's diplomatic row with Rwanda, kept his professional disposition, where people like Kabarebe, got involved in attacking Uganda, when he was only an advisor to President Kagame. Nyamvumba is only one amongst many senior RDF officers who are ready to answer fire with fire should Paul Kagame make a move. Signs are, he is indeed making moves , however, his Generals have vowed to stop him from killing them like rats.