By: Rpf Gakwerere
Those who joined Rwanda Patriotic Army/Front in the late 1980s and early 90s know very well Mzee Desire Kyamutamu. Mzee Desire Nkubitoyabagabo Kyamutamu was well known within the RPF/A because of songs he composed and sang during the RPA/F liberation struggle.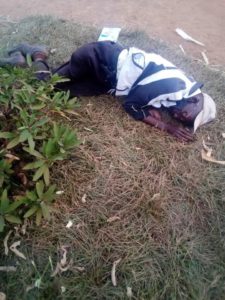 Rwandan community that lived in Mbarara and Ntungamo in the 70s, 80s and early 90s know him. Mzee Desire Kyamutamu was a free person, who spoke his minds and gave advice when necessary.
As a senior Rwanda Patriotic Front cadre and admirer of Rwanda Defence Force (RDF), Mzee Desire Kyamutamu started questioning and talking on issues of intrigue and injustice within Rwanda Patriotic Army. He considered the current ruling elites as his sons and daughters, thus speaking to them without fear.
Mzee Desire Kyamutamu failed to realise that Criminal Paul Kagame and his assassin thugs have no consciousness when it comes to killing. For the past years, Mzee Desire Kyamutamu has been telling different RPF cadres and senior army officers on issues of unity and questioning elimination of innocent RPF cadres/army officers.
Mzee Desire Kyamutamu was totally against the tension between Rwanda and Uganda, and the closing of the borders between the two brotherly countries. Being outspoken, He would always wonder how Kagame would dare to close the border knowing that people have relatives, friends and properties in Uganda. "Our relatives are also buried in Uganda," he would say to different people.
No one among senior security officers who did not know Mzee Desire Kyamutamu, they all know the old man meant no single harm to Paul Kagame's brutal regime. Mzee Desire Kyamutamu was totally harmless, he is a man who wouldn't even harm a fly. But this didn't stop Brig Gen Dan Munyuza of always reporting him to dictator Paul Kagame.
Mzee Kyamutamu's frankness to those he met, made ill trained intelligence operatives give Brig Gen Dan Munyuza fake intelligence information about Mzee Kyamutamu, and in turn, Dan Munyuza fed the info to his boss criminal Paul Kagame. And after several reporting to dictator Paul Kagame, the coward dictator gave a go ahead to eliminate a harmless old man who was in his 80+ years of age.
Mzee Desire Nkubitoyabagabo Kyamutamu was kidnapped by operatives under CP Denis Basabose, commissioner of police's Counter Terrorism. Mzee Desire Kyamutamu's lifeless body was dumped on the side of a road in Karangazi, Rwanda. He died through strangulation, and his neck had strangulation marks.
Since the early 90s to present, his liberation songs are always being sang in the army as morale booster, new artists have re-sang them with new touches of modernity; but after his assassination, no single tabloid or news outlet in Rwanda mentioned of his death. Rwanda's media being under the control of criminal Paul Kagame, a media blackout on the assassination of Mzee Desire Kyamutamu was enforced.
Last week, as criminal Paul Kagame and his bloodthirsty thugs eliminated an innocent old man, his tabloids were engaged in public relations lies of a military attack from Burundi, and we all know there was no single attack from Burundi (topic for another day). Last week, as family members of Mzee Kyamutamu and loved ones were laying him to rest, dictator Paul Kagame and his tabloids were busy fooling oppressed and enslaved Rwandans on issues of Dictator Paul Kagame's anti corruption crusade.
Dear oppressed and enslaved Rwandans, criminal Paul Kagame and his thugs are bloodthirsty killers. Paul Kagame respects no single life, except his and that of his children. Paul Kagame has given himself the power of the almighty God, the power of whether to live or die. The right to live is a God given right, and this right can't be taken away by a bloodthirsty criminal dictator.
————————————————————————————————————
N.B: you can follow me at – Robert Patrick Fati Gakwerere page (Facebook page), @RGakwerere (tweeter) or my blog – rpfgakwerere.org.
However, for those in the enclave – Rwanda, the blog rpfgakwerere.org was blocked by the junta regime, it can't be accessed unless you are using VPN.