Namukade Dr Daphrose Gahakwa, former minister of Education in the potato enclave – Rwanda, was yesterday, 2nd October 2020, been arrested under a 2018 corruption case and she is currently being held at Rwanda metropolitan police station in Remera, Kigali, Rwanda.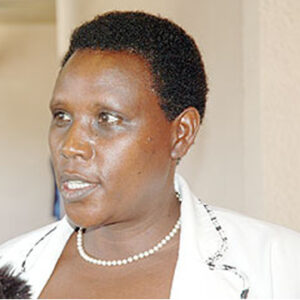 Namukade Dr Daphrose Gahakwa held different key positions in criminal Paul Kagame's office. She was a minister of education, worked as a permanent secretary in the ministry of Agriculture, deputy director at Rwanda Agriculture Board…etc.
Namukade Dr Daphrose Gahakwa is a Makerere University alumnus where she graduated in Bsc in Agriculture in 1979.
As corporal always say, "never interfere when a master is punishing his dogs." Learn to keep to your lane when criminal Paul Kagame is punishing his minions and goons.
Corporal's only worry it's for oppressed, enslaved, starving and unemployed Rwandans who have nothing to do with this brutal regime or internal intrigues taking place within the satanic system.
Criminal Paul Kagame, if you want you can hang all members of your satanic regime, it's within your right since your minions and goons address you as demigod.
You can't serve a hyena and expect a different result, the hyena has to chew you after your usefulness are no longer needed.
In other news, I am listening to extremely great album by DR Congo's underrated musician Felix Wazekwa as I read a thriller story from Potato enclave – Rwanda.
The thriller is about Kagame's former trusted goons, the Migabo brothers who are currently languishing in criminal Paul Kagame's dungeon. The two brothers, Col Augustine Migabo and Lt Col Callixte Migabo alias Senegale were Key elements within Criminal Paul Kagame's security apparatus until July 2020 when they were arrested and taken to Gabiro torture chamber and then to Mulindi torture centre, where they are still undergoing criminal Paul Kagame's torture.
1) Who are the Migabo brothers?
2) What are their relationship with Jeannette Nzirorera Kajuga Gasana Kagame?
3) Where was they born?
4) Who relocated them to presidential guard despite being from a mixed ethnicity? Remember the criteria for joining the presidential guard.
5) What is their relationship with Brigadier Gen Vincent Nyakarundi?
6) What are the human rights records of Migabo brothers?
7) Why was they picked like grasshoppers by presidential guard operatives led by Col Kitoko Kadida? And up to now family and loved ones haven't seen them.
To share the above info mid next week…..
https://youtu.be/xavNWYTypoc