By: Rpf Gakwerere
Today, 5th November 2022, in Luanda, Angola. The Angolan President, João Lourenço received the Ministers of Foreign Affairs of the DRC, Christophe Lutundula and of Rwanda, Vincent Biruta.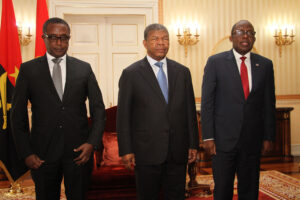 In one of the picture marked with a red arrow, it shows the chief of Rwanda's external intelligence, Colonel Jean Paul Nyirubutama, a notorious Kagamist assassin. Criminal Paul Kagame's ministry of Foreign Affairs is run, managed and directed by military intelligence. Foreign Minister Vincent Biruta has no single say in this ministry, same to his predecessors Richard Sezibera or Louise Mushikiwabo both had no single decision or policy power/say within this ministry. Ministers in this ministry are mere office messengers trotting around on errands or assignment briefed to them by the Directorate of Military Intelligence – recently rebranded as Defence Intelligence or errands instructed to them by the Chief criminal – Paul Kagame.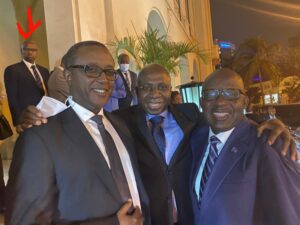 Nearly in all foreign trips, Minister Vincent Biruta is either escorted by Rwanda's external intelligence chief, currently Col Jean Paul Nyirubutama or National Intelligence and Security Services chief, currently Maj Gen Joseph Nzabamwita.
No foreign Minister of Rwanda, or any other Minister in criminal Paul Kagame's brutal regime that travels on a foreign engagement without the shadow of Military Intelligence over his/her head.
Below, Criminal Paul Kagame's trusted assassin, Col Jean Paul Nyirubutama looking closely at Foreign Affairs ministers of Rwanda – Vincent Biruta, Angola – foreign minister Tete António, and DR Congo – Christophe Lutundula. In this case, like any other case, criminal Paul Kagame will trust a briefing handed to him by his intelligence boy – Col Jean Paul Nyirubutama rather than his minister – Vincent Biruta.
———————————————————————————————————–
N.B: you can follow me at – Robert Patrick Fati Gakwerere page (Facebook page), @RGakwerere (tweeter),  https://twitter.com/RGakwerere?s=08 or at my blog – rpfgakwerere.org.
However, for those in the enclave – Rwanda, the blog rpfgakwerere.org was blocked by the junta regime, it can't be accessed unless you are using VPN.