By: Rpf Gakwerere.
Today, New Year's Day, 1st January 21, criminal Paul Kagame released a photo on his Twitter account, the photo shows the bloodthirsty dictator beaming with happiness and joy while holding his grandchild. The new year photo, shows Potato Enclave – Rwanda's brutal dictator carrying/holding Co – Vice President Ange Kagame's daughter.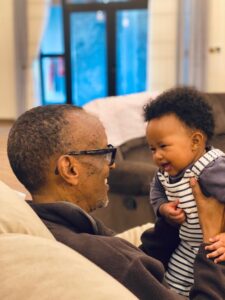 Criminal Paul Kagame is a ruthless, cruel, heartless and bloodthirsty thug who has denied millions of innocent people such an opportunity as demonstrated in his shared photo; an opportunity to be with loved ones, an opportunity to hold loved ones, an opportunity to care for loved ones and an opportunity embrace loved ones.
Today, millions of innocent people that he brutally took their lives would have also spent their day surrounded by family and friendly love, unfortunately, the ruthless dictator gave them one way tickets to their grave yards.
RIP to my friend Counsel Toy Nzamwita who was brutally assassinated on New Year's Eve, 30 December 2016, by presidential guard operatives, on direct orders of criminal Paul Kagame.
RIP to Col Patrick Karegeya who was assassinated on early hours of New Year's Day, 1 January 2014, by Dictator Paul Kagame's external intelligence operatives led by serial assassin Lt Col Francis Gakwerere. The operation to brutally assassinate Col Patrick Karegeya was personally supervised by Criminal Paul Kagame with the help of treacherous assassin Gen James Kabarebe.
RIP to all those who have lost their lives at the hands of criminal Paul Kagame and his band of assassins.
RIP to the founding fathers and senior cadres of Rwanda Patriotic Army/F, Gen Fred Rwigema, Maj Peter Bayingana, Major Chris Bunyenyezi, Col Charles Ngoga, Col Steven Ndugute, Col Vedaste Kayitare, Col William Bagire, Col Adam Waswa, Commander Sam Byaruhanga, Col Wilson Rutayisire, Col Alex Kanyaregwe, Col Theoneste Rizinde, Aloysia Inyumba, Seth Sendashonga, Jacques Bihozagara, Patrick Mazimpaka….etc; who were mercilessly and brutally assassinated by Criminal Paul Kagame.
————————————————————————————————————
N.B: you can follow me at – Robert Patrick Fati Gakwerere page (Facebook page), @RGakwerere (tweeter) or at my blog – rpfgakwerere.org.
However, for those in the enclave – Rwanda, the blog rpfgakwerere.org was blocked by the junta regime, it can't be accessed unless you are using VPN.