By: Rpf Gakwerere
It is only in the enclave where the satanic regime can spend tax payers' money to build a fake and fabricated CV for one of its inept sycophant/goon/minion. In the potato enclave – Rwanda, especially among senior officials, it is a culture and a norm to present fake – fabricated CVs, and the satanic regime encourages it.
The Kagamist minion below is Tom Ndahiro, and is also known by various social media pseudo names. The ruthless minion manages several social media accounts that were set to specifically praise criminal Paul Kagame 24/7.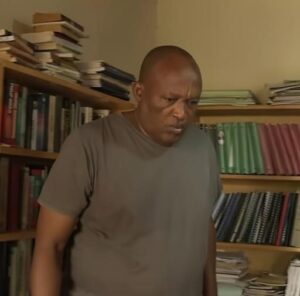 Over the years, the satanic regime has wasted resources in promoting this kagamist sycophant – Tom Ndahiro as a researcher. How can a senior three dropout become a researcher?
Research is an expertise field that requires immense training, you can't wake up in the morning and start referring to yourself as a researcher. To become a researcher you must have the training and education, but not self anointing as in the case of this sick Kagamist sycophant Tom Ndahiro alias Rutwe.
During Rwanda Patriotic Army/F liberation war, Tom Ndahiro alias Rutwe was a photographer, most of the photos you see of RPA/F soldiers and cadres were taken by Tom Ndahiro alias Rutwe. And when Rwanda Patriotic Army/F radio – Radio Muhabura started, Tom Ndahiro was given air time slot to yap on behalf of RPA/F.
During the RPA/F liberation war, young rebel soldiers nicknamed him Rutwe or Mbariga, he was nicknamed Mbariga because of his feet's awkward way during Mucaka Mucaka running with other political cadres. For Rutwe nickname, you can all tell why they nicknamed him that.
After the war in 1994, Tom Ndahiro ventured in media becoming chief editor of Imvaho, but due to his incompetence and lack of skills, he failed to build a career in the media, this is when he woke up and started referring himself as a researcher of Rwanda's history and 1994 Tutsi genocide. With the help of the satanic regime's public Relations team, Tom Ndahiro's researcher tag was publicised, promoted and referred. And he started representing the satanic regime in all genocide related conferences, and now, oppressed and enslaved Rwandans believe that this semiliterate Kagamist sycophant is a researcher.
Forget about the fake and fabricated researcher tag on him; Tom Ndahiro's real job is being a state informer under National Intelligence and Security Services (NISS). He receives operation funds and monthly salary from NISS. His only source of income is through his dirty work of being an NISS agent, his fake research yapping are for propaganda purpose rather than real serious research work.
He is a notorious agent, and leads one of the several Intelligence team that operates on social media. We all know what has happened to those he has negatively written or talked about, and they happen to be living in Rwanda. Lecturer Aimable Karasira is a good case study.
His fake and fabricated intelligence information have led to kidnapping, incarceration, torture and elimination of several innocent people, especially those who post comments that he isn't happy about or deem to be anti Kagame and his satanic regime.
————————————————————————————————————
N.B: you can follow me at – Robert Patrick Fati Gakwerere page (Facebook page), @RGakwerere (tweeter) or at my blog – rpfgakwerere.org.
However, for those in the enclave – Rwanda, the blog rpfgakwerere.org was blocked by the junta regime, it can't be accessed unless you are using VPN.