By: Rpf Gakwerere
Days for Potato enclave's Imposter "lawyer" – Johnson Busingye to remain as Rwanda's minister of Justice and Attorney General are numbered. Since Johnston Busingye's disastrous interview with Aljazeera news network, things aren't good for the goon who sold his brain and soul to a despicable ruthless dictator.
According to sources, the dictator isn't happy with Johnston Busingye, this was after Johnston Busingye's interview with Aljazeera news network which unceremoniously backfired at the front gate of Village Urugwiro state house, with Village Urugwiro state house forcing Johnston Busingye to release a clarification statement in regard to an interview he held with Aljazeera news network.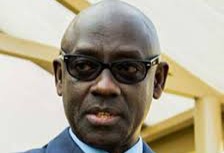 This interview was supposed to be a Public Relations drive to portray the rogue regime as a law bidding regime that respects international law and due process, but the interview ended with viewers confirming what they already knew; a brutal regime which doesn't respect or conform to international law or any law. A rogue regime led by a human rights abuser – criminal, Dictator Paul Kagame.
However, the two men haven't spoken to each other, and this is making Johnston Busingye nervous, because he doesn't know what the ruler thinks about him and his interview mess. The imposter "lawyer" knows very well that criminal Paul Kagame isn't a forgiving person.
In Rwanda, the only person allowed to mess in interviews or have a disastrous interview(s) with any cable news network, it's criminal Paul Kagame, the rest of his minions and goons are supposed to be slick and polished in spreading lies and defending these lies at all costs. And on Friday, 26 February 21, Johnston Busingye failed to defend a state lie vis a vis Paul Rusesabagina's kidnapping.
At the moment, Potato enclave's Justice minister and Attorney General, imposter "lawyer," Johnston Busingye, must be regretting why in 1995, he quit his logistic manager job at Entebbe airport, and decided to relocate to Rwanda.
————————————————————————————————————
N.B: you can follow me at – Robert Patrick Fati Gakwerere page (Facebook page), @RGakwerere (tweeter) or at my blog – rpfgakwerere.org.
However, for those in the enclave – Rwanda, the blog rpfgakwerere.org was blocked by the junta regime, it can't be accessed unless you are using VPN.