The starving enclave is finally opening the borders with Uganda for only two weeks. The Madman's tantrums always have it's limits. The enclave ruler thought he would export his madman tantrums to a sovereign state.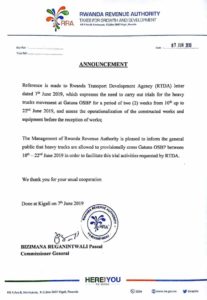 For the past 24 years, the enclave ruler had managed to manipulate Jjaja while at the same time eliminating great NRM cadres and causing insecurity to independent sovereign state. With time, the enclave ruler became comfortable and bold to the extent of going for regime change in a sovereign country – Uganda. When uncovered, the ruler embarked on crazy tantrums like closing of borders, now reality is hitting back.
The SATANIC SYSTEM has realised that the African Singapore tag is a mere delusional, and now decided to re-open the borders as starvation was engulfing the enclave.
Uganda's diplomatic approach of silence against a mad – ruler has totally prevailed. As they say in diplomacy, "silence is a clever diplomatic tool, especially against those who aren't in your league."
N.B: Rwandans are still not allowed to leave the country through Rwanda – Uganda borders.