By: Rpf Gakwerere
This past Friday 12, 2021, the United Nations Development Programme (UNDP) Resident Representative for Rwanda, Mr. Maxwell Gomera, praised Rwanda's Inspector general of police, brutal assassin Brig Gen Dan Munyuza and his bloodthirsty police for excellent leadership and great policing work, especially in community policing.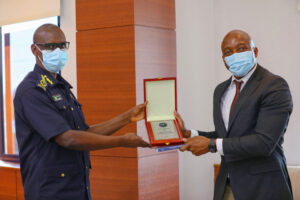 This is like praising serial killer Admiral Wilhelm Franz Canaris, chief of the Abwehr, the Nazi military intelligence service. And Criminal Paul Kagame's security enforcer – Brig Gen Dan Munyuza is a worst creature in comparison to Adolf Hitler's Intelligence guru – Admiral Wilhelm Franz Canaris. In the later years of the Nazi regime, Admiral Wilhelm Franz Canaris realised the gravity of Nazi atrocities and turned against the NAZI system.
Which world does Maxwell Gomera and his deputy Ms Varsha Redkar Palepu live in? As country representatives of United Nations Development Programme in Rwanda, they have resources at their disposal to know all atrocities committed by serial killer Brig Gen Dan Munyuza since 1991 to present, and all human rights atrocities being committed by criminal Paul Kagame's bloodthirsty police force.
How can you praise a human rights abusing institution that kidnaps, tortures, incarcerates and kills innocent citizens? An institution that is headed by a ruthless kidnapper, torturer and killer?
The United Nations Development Programme partially funds Dictator Paul Kagame's bloodthirsty police, especially in community policing initiatives.
————————————————————————————————————
N.B: you can follow me at – Robert Patrick Fati Gakwerere page (Facebook page), @RGakwerere (tweeter) or at my blog – rpfgakwerere.org.
However, for those in the enclave – Rwanda, the blog rpfgakwerere.org was blocked by the junta regime, it can't be accessed unless you are using VPN.