By: Rpf Gakwerere
Earlier today, 20th May 21, President Museveni arrived in Dar es Salaam, Tanzania aboard Uganda Airlines for the EACOP project ceremony.
President Museveni and President Samia Suluhu Hassan witnessed the signing of the Uganda–Tanzania Crude Oil Pipeline, also known as the Hoima – Tanga Oil Pipeline. This part of the agreement was between Tanzania and investment companies in the project.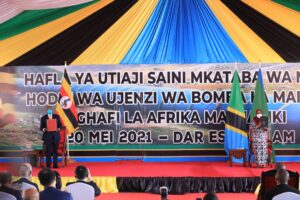 The signed agreement approves the construction of pipeline in Tanzania and the construction of a port in Chongoleani, Tanga.
The pipeline will be transporting crude oil from Uganda's oil fields to the Port of Tanga, Tanzania, on the Indian Ocean.
During the signing ceremony, President Museveni said that, "This is a historic event. I am very happy to see this. Mwalimu Nyerere, wherever he is must be very happy because this is what we were talking about all the time. This pipeline is a very important regional infrastructure project.
Let's not get carried away, petroleum is an exhaustible resource, while agriculture, tourism, ICT, services, and Industries are continuous. We are going to use the oil resources to build durable sectors and by the time the oil gets finished, we shall have reached somewhere."