By: Rpf Gakwerere
On the photo below, Criminal Paul Kagame alias Uncle Kagosi Owembwa contemplating on financial losses he made on American lobbyists who were supposed to fix a side meeting with American Vice President Kamala Devi Harris during the 58th Munich Security Conference that was held from 18 February – 20 February 2022, in Germany.
Dictator Paul Kagame expected to have a meeting with America's Vice President Kamala Harris during during the 58th Munich Security Conference that was held from 18 February – 20 February 2022, in Germany. This was his main aim and objective when he attended this annual conference in Munich. America's Vice President attended the Munich security conference, and with her busy schedule, Rwanda's bloodthirsty dictator, Paul Kagame wasn't given an audience.
We all know how dictator Paul Kagame is obsessed with photo opportunity, during the Munich security conference he didn't even get an opportunity to get close to Vice President Kamala Harris. Currently, criminal Paul Kagame is no longer required in America's grand plan for Africa, he is a used condom waiting for the right time to be dumped by his former master(s).
Criminal Paul Kagame is financially spending on American lobbyists to arrange for him a meeting(s) with senior officials within Joe Biden government, especially President Joe Biden, Vice President Kamala Devi Harris or Secretary of State Antony Blinken.
At the moment, they have all ignored the bloodthirsty killer who previously with support of paid lobbyists was always invited by senior officials in USA. Like Donald Trump administration, Joe Biden's administration has also kept a similar policy towards Rwanda, communicating through USAID rather than the bloodthirsty criminal frequenting USA to meet senior officials.
The photo below, was taken yesterday, 22 February 2022, during the inauguration of Senegal's state of the art 50,000 seater capacity stadium.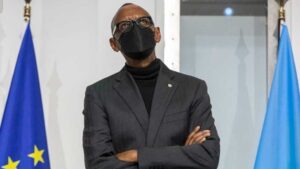 The new stadium was built in just 18 months by Turkey's Summa construction company, at a cost of 156 billion CFA francs ($270 million, 238 million euros).
Once he returns to his potato enclave – Rwanda, oppressed, enslaved, starving and unemployed Rwandans will be victims of his rage and frustration. The photo below shows a disturbed man, a diplomatically wounded dictator, then expect innocent people to be eliminated.
———————————————————————————————————–
N.B: you can follow me at – Robert Patrick Fati Gakwerere page (Facebook page), @RGakwerere (tweeter) https://twitter.com/RGakwerere?s=08 or at my blog – rpfgakwerere.org.
However, for those in the enclave – Rwanda, the blog rpfgakwerere.org was blocked by the junta regime, it can't be accessed unless you are using VPN.