By: Rpf Gakwerere
Rwandans will hear, read or listen to criminal Paul Kagame's inept sycophants, goons and minions claim that opposition figures have no single political or developmental road maps to present to the electorates.
These Inept goons and minions will swear, lament, proclaim or shout over their heads when advancing false facts, while preaching to electorates that the opposition have nothing to offer, apart from selling false hope.
In 2015, criminal Paul Kagame's well known loud speaker and the angel of doom, Miss Louise Mushikiwabo referred Rwanda's opposition figures as Mayibobo (street children) trying to sell sweets. Another Inept Kagamist goon who sold his dark soul to Satan, Evode Uwizeyimana went further by labelling opposition political parties as high street boutiques with nothing to sell.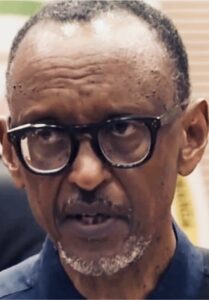 But for those who know Criminal Paul Kagame's political party – RPF very well will appreciate that, while still in opposition, the RPF had the shallowest and the most myopic political road map that left any political observers of that time with sour taste. It was an RPF political manifesto known as the 8 point program; these were 8 point programs that lacked political depth, vision and analysis. In other words, these political programs were written by a political toddler or a political novice. For Criminal Paul Kagame's Inept goons and minions to come out and say otherwise or criticise Rwanda's opposition for lacking political maturity or clear political programs its hypocrisy on their side.
On paper, the current opposition political parties have greater, realistic, mature and well thought political programs (ref: RNC party's political program); which you can never compare in terms of substance and intellectualism with Criminal Paul Kagame's RPF 8 point programs (RPF's political programs while still in opposition).
The main issue in Criminal Paul Kagame's Rwanda is that, there is no single political space for the opposition political parties to implement, express and advance their political programs to the masses. Criminal Paul Kagame's regime has created zero tolerance to political descent and criticisms.
For nearly 3 decades, Criminal Paul Kagame's Kangaroo courts have used draconian and jungle laws to protect the status quo; the brutal despot is now the prosecutor, the judge and the law.
Now Rwanda is a country of 1000 lies, for the past 3 decades, the country has been proclaiming economic growth of between 6 – 11% without explaining or stating economic sectors which have created these national economic growths!! It took Taiwan 15 years of economic growth of between 6 – 8% to transform from a subsistence economy to an industrialised (high tech) based economy and then to a donor country.
But with Rwanda's falsification of "impressive" economic growth, the country is still experiencing high unemployment, rising inflation of commodities, low salaries and wages, capital flight, negative balance of trade, next to zero export except minerals plundered from DR Congo, budget deficits, worst human capital index in the world, looting of the country by the Kagame family, high redundancies, falsification of data in all sectors, over borrowing and heavily still reliant on donor funds. With these hyped and over praised economic growths that is based on always falsified data releases, Rwanda is still a poverty stricken POTATO REPUBLIC.
———————————————————————————————————–
N.B: you can follow me at – Robert Patrick Fati Gakwerere page (Facebook page), @RGakwerere (tweeter) https://twitter.com/RGakwerere?s=08 or at my blog – rpfgakwerere.org.
However, for those in the enclave – Rwanda, the blog rpfgakwerere.org was blocked by the junta regime, it can't be accessed unless you are using VPN.