By: Robert Patrick Fati Gakwerere
Source: Since Saturday night, 12th November 2022, to Wednesday, 16th November 2022, RDF troops numbering to 2600 entered DR Congo as reinforcement for RDF/M23 soldiers who are advancing on three axis, 1) Masisi column, 2) Lubero Column and 3) Goma Column. In RDF a battalion is around 600 to 1000 personnel.
Chief logistic coordinator of RDF – M23 operations in DR Congo is Major General Ruki Karusisi, head of Rwanda Defence Force. Maj Gen Ruki Karusisi was born in DR Congo, he is a very fluent Lingala and Congolese Swahili speaker – Lingala is his birth language. Since the beginning of this round of RDF/M23 offensive in April 2022 to Present, Criminal Paul Kagame personally appointed the chief of his special force, Maj Gen Ruki Karusisi to coordinate logistic supply for RDF/M23 offensive in DR Congo.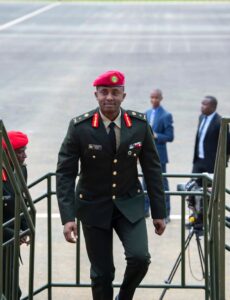 Who is the chief coordinator of RDF – M23 operations in DR Congo? Stay tuned.
By: RPF Gakwerere a military corporal for more than three decades.