By: Robert Patrick Fati Gakwerere
Col John Amani Nzenze Of RDF-M23 Hands Over Kibumba To Kenyan Forces As His Force Withdraw Towards Sabinyo.
A number of young RDF-M23 men totally died for nothing in an offensive that led to RDF-M23 capturing Kibumba. And now, due to pressure, RDF-M23 as left Kibumba.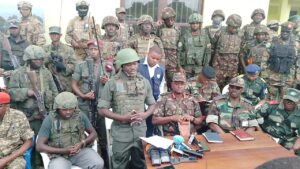 The M23 officially transferred control of Kibumba to the regional force of the Community of East African States (EAC). The ceremony took place this Friday in the presence of Kenyan Major General Jeff Nyangah, commander of this regional force.
In his brief speech, the self-proclaimed Colonel Nzenze Amani of RDF-M23 stressed that he handed over this space exclusively in the hands of the EAC force.
"This gesture of goodwill made in the name of peace, is one of the recommendations resulting from the Mini Summit of Heads of State held in Luanda, Angola on November 23, 2022. We hope that the Government of Kinshasa will seize this opportunity with two hands and will also work to bring peace to our country," the movement said in a statement.
RDF-M23 justifies this decision by the conclusions of the meetings held in Kibumba on December 12 and 22, 2022, between the RDF-M23 and the regional force and the Ad hoc Verification Mechanism.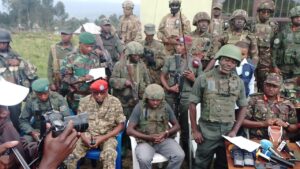 The decision comes a few hours after the release of a new report by United Nations experts which accuses the Rwandan army of having carried out military operations in the east of the Democratic Republic of Congo, and of having provided weapons, ammunition and uniforms at RDF-M23.
Why does criminal Paul Kagame keep on sending innocent young men to die in a senseless war? A war he knows very well that he will not win. How is RDF-M23 spinning this humiliation? Is Criminal Paul Kagame achieving his plundering objective in DR Congo? Not at all.
Don't forget, when President Felix Tshisekedi became the president of DR Congo in January 2019, and in February 2019 to May 2021, he allowed more than 6 Batallions of RDF to operate in both North and South Kivu, in military operations that destroyed anti Kagame forces i.e FLN of Gen Wilson Irategeka – Major Sankara group, General Juvenal Musabimana aka Jean-Michel Africa of RUD, Gen Sylvestre Mudacumura of FDRL and Habib Mudathiru forces.
However, Criminal Paul Kagame's madness made him leave this bilateral security arrangement, a military arrangement that even allowed Criminal Paul Kagame's special force units to operate in DR Congo wearing FARDC uniform as disguise. But, Criminal Paul Kagame decided to leave this corporation pack and invaded a sovereign country.