By: Rpf Gakwerere
DR Congo fighter plane, Sukhoï SU-25, was targeted by a surface to air missile fired from Rwanda by Rwanda Defence Force into Congolese airspace in Goma, North Kivu, this Tuesday, January 25, 2023.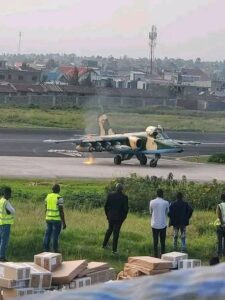 Amateur images filmed from Goma show a missile heading towards the fighter plane and exploding before hitting the target.
Since Mid December 2022, RDF-M23 has been trying to capture trading centres of Sake, Kitchanga and border town of Ishasha with little success. And since last Saturday, 21st January 2023, to today, RDF-M23 forces under Sake axis and Kitchanga axis have been battling FARDC in different localities in Nyiragongo and Rutshuru territories, with high deaths being recorded in these fightings.
Today, Tuesday, 24th January 2023, heavy clashes have been raging since 4:00 AM DR Congo time, to this evening in the territories of Rutshuru bordering Masisi and Nyiragongo territories. And all sources are noting on high number of deaths in these fightings.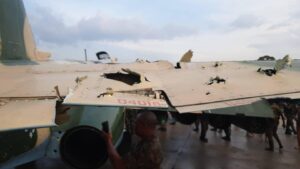 In today's fighting, RDF-M23 spent the whole day trying to cut Goma – Kitchanga road in order to prevent FARDC forces fighting in Masisi, particularly the trading town of Kitchanga from getting logistic supplies or reinforcement from Goma.