By: Robert Patrick Fati
This Morning, Wednesday, 25th January 2023, heavy clashes have resumed between FARDC and Criminal Paul Kagame's invading forces of RDF-M23 around trading centre of Bombo in chiefdom of Bwito in Rutshuru territory, North Kivu. Since last night, FARDC had dislodged RDF-M23 from this town. But this morning, RDF-M23 has started an offensive to retake this town centre.
Yesterday, FARDC also managed to dislodge RDF-M23 forces from the trading town of Kisheshe and its surrounding areas. While RDF-M23 was concentrating on their offensive to take Kitchanga, in Masisi, FARDC was attacking their rear in Kishishe. At the moment, RDF-M23 force fighting in Kitchanga has been cut from their rear supply and retreat route. All contacts within RDF-M23 indicates of heavy personnel losses (RDF-M23 losses) in Kishishe, as FARDC took control of this area last evening.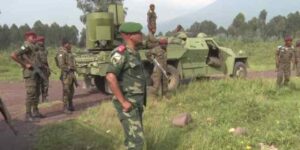 According to these RDF-M23 contacts, on Saturday and Sunday, 21st January 2023 and 22nd January 2023, respectively, their forces lost a significant number of soldiers in Bishusha and Tongo.
An RDF-M23 source noted, "our defences in Bishusha and Tongo were decimated by a FARDC offensive in these two localities. Our forces are currently overstretched, however, more reinforcement is on the way, and operation restructuring is currently taking place."
Innocent people are continously losing their lives in a Madman's senseless war.