By: Robert Patrick Fati Gakwerere
Kenya and the DRC signed a Military Cooperation Agreement in Goma (North Kivu) on Friday, 4 August.
Kenyan side was represented by Aden Barre Duale, Minister of National Defence while the DRC was led by Deputy Prime Minister and Minister of National Defence, Jean-Pierre Bemba.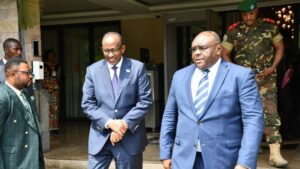 According to both parties, this agreement is a concrete act, which reinforces bilateral cooperation between these two brotherly countries in the field of defence.
At the end of the short discussion behind closed doors, Aden Barre Duale and Jean-Pierre Bemba signed this text.
This military cooperation includes, among other things, training and retraining of FADRC special forces by the Kenyan army. The first units are already being trained in Kisangani (Tshopo).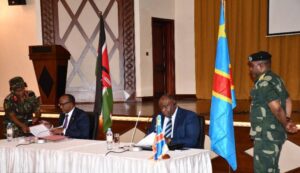 This meeting is of crucial importance in the assistance and capacity building of FADRC.
"Both countries will contribute to the credibility of this cooperation and will be reflected in mutual respect and objective relationship between Kenya and the DRC," noted Jean-Pierre Bemba.
The meeting between the two ministers takes place following a working session of experts from both countries.
Kenya's Minister of Defence, Aden Barre Duale attended this bilateral meeting and tour on Wednesday to 2nd August 2023 in Goma, that will this meeting will continue upto 7th August 2023.