By: Robert Patrick Fati Gakwerere
The President of Burundi, Evariste Ndayishimiye, begins a working visit in the Democratic Republic of Congo, as tensions in the Greatlakes region remains high.
This Sunday, 27th August 2023, the international airport of N'djili came alive with the arrival of Burundian President, Evariste Ndayishimiye, who was warmly welcomed by DR Congo Prime Minister Jean-Michel Sama Lukonde. The Burundian president was expected in Kinshasa for a series of bilateral meetings with his Congolese counterpart, Felix Tshisekedi.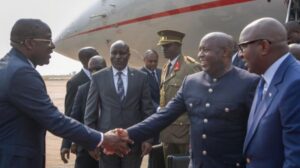 The two heads of state will dine this evening at the presidential palace of Mont Ngaliema, before an important working session, scheduled for Monday, 28th August 2023, at the Palais de la Nation. On the agenda: regional issues, peace and, no doubt, the thorny issue of M23, foreign armed groups in DR Congo and the issue of terrorism in the region.
This meeting comes after the last summit of the East African Community, which was held in Bujumbura. Particularly tense moments for President Ndayishimiye, who, as current president of the EAC, is actively involved in the Nairobi peace process. This process aims to ease the persistent tensions in the eastern provinces of the DRC, a region plagued by conflicts.
Burundi's military presence in the region is also a crucial point of this cooperation. With a force of over 1,000 men, Burundi's National Army plays an active role within the EAC Regional Force (RF/EAC). Its main objective is to counter attacks by RDF-M23 troops.
The joint press conference, scheduled at the end of their face-to-face meeting, will undoubtedly be scrutinized by international and regional observers, anxious to foresee the future strategic orientations of these two Eastern African nations.