Rwanda's brutal your ruler, and owner of the impoverished enclave – Rwanda arrived today, early morning after having a stopover in Valencia, Spain. As noted in my Yesterday's post, Valencia , Spain is one of the cities that he usually has stopovers while jetting to USA or from USA, other places he likes making stopovers on his way or from USA are, Isle of Man and Jersey Island, which are known safe heavens for under world money laundering.
www.rpfgakwerere.org/2020/10/07/criminal-paul-kagames-foreign-trips-since-1st-october-202o/
Below, dictator Paul Kagame's Gulfstream G650ER, jet registration SX-GJA flying from Valencia. The jet left Valencia, Spain last at 01:30 AM Rwanda time.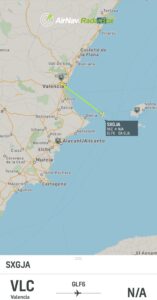 As usual, Paul Kagame's Private Jet usually turns off the transponder as soon as they reach on African continent airspace. But last night, they turned off the transponder when his private jet reached was over DR Congo airspace.