By: Rpf Gakwerere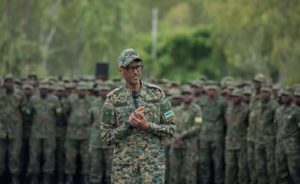 1) DMI has unlimited operation resources as long as the operation has been sanctioned by criminal Paul Kagame. DMI's financial muscle is unlimited, Dictator Paul Kagame would rather starve other institutions like the health services/ministry of health, education, infrastructures…etc, but his Directorate of Military Intelligence (DMI) continues to receive operation funds, especially funds for black ops – elimination operations.
2) Criminal Paul Kagame's DMI is extremely brutal, let me repeat, they are totally brutal and ready to break any rule in order to achieve their operation aim – target- goal.
3) Once you're blacklisted, you will be hunted down, eventhough they fail, they will keep on trying until they send you to the graveyard. Under Criminal Paul Kagame, killing opponent or those assumed to be opponent is a primary object.
If you have been blacklisted by criminal Paul Kagame's DMI, don't think they have forgotten you, they are still revising ways of elimination. Always be security cautious until a day this  satanic system ruling the potato enclave is sent back to hell. And it's pretty soon.