By: Rpf Gakwerere
As noted in my previous post, since Clare Akamanzi is a public servant, a participant in her boy friend – criminal Paul Kagame's human right crimes, state corruption, embezzlement and public wastes. Rwandans have the right to know her.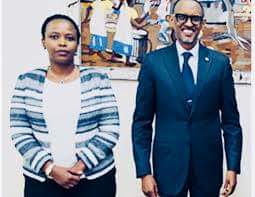 Who took her to Village Urugwiro?
After failing to get points to join Makerere university through Uganda government scholarship, her option was only to join the institution as a private student paying for herself. And the family didn't have the resources to sponsor her as a private student.
The option was for the family, through her maternal relatives, to try and find ways for her to join Butare or KIST through the government of Rwanda scholarship. It was from this back ground that the mother approached a distant relative – James Musoni, and the former super minister – James Musoni helped her obtain state house – Village Urugwiro scholarship to Makerere University. Thus, joining the institution during 1998/99 academic year at the school of law under the evening programme.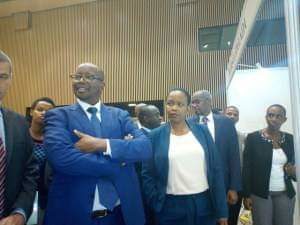 For those who don't know, criminal Paul Kagame's office receives money meant for sponsoring students. This scheme was supposed to target children of fallen RPF heroes and bright orphans, but criminal Paul Kagame has diverted the fund to his personal use and limited amount being spend to few well connected Children – individuals within his mafia regime.
And totally no one gets this state house scholarship without the approval of criminal Paul Kagame. Currently, according to a reliable source within state house – Village Urugwiro, more than $ 1 million is allocated to Village Urugwiro for this education scheme. Unfortunately, due to lack of transparency within the junta regime, the money ends up in criminal Paul Kagame's bank accounts.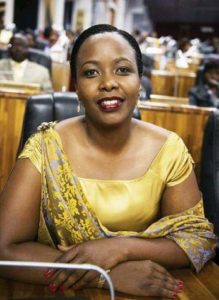 While at Makerere University
While at Makerere University, students used to see Clare Akamanzi being dropped for her evening lectures driven in a Ugandan registered UC number plate and most of her class mates thought she is relative or a wife of a senior security official within Uganda's security apparatus. UC number plates are only meant for vehicles within Uganda's security apparatus.
In early 1998, after James Musoni introducing her distant relative Clare Akamanzi to Criminal Paul Kagame. Criminal Paul Kagame was mesmerised by the body stature of young senior six leaver – Clare Akamanzi which was well shaped with ass hips that attracted Kacyabari – kunyaza loving criminal ruler of Rwanda.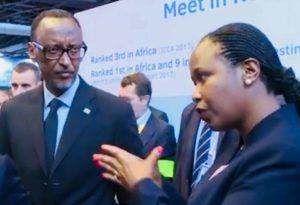 At first glance, that was it. Clare Akamanzi was set. Not only did criminal Paul Kagame provide for her a student scholarship at Makerere university, but also intimate care and protection. James Musoni turned into a pimp in this grand scheme of securing young Clare Akamanzi's legs.
While studying at Makerere University, criminal Paul Kagame instructed his senior agent in Kampala – Kale Kayihura who was then a Brigadier general and working as a senior military advisor to Museveni to provide security for young Clare Akamanzi. Criminal Paul Kagame rented for her a posh apartment in Bunga and Kale Kayihura provided her with security. This is the reason she was always dropped and picked from Makerere university evening lessons in different UC registered vehicles.
After Makerere University, criminal Paul Kagame's office paid for her master degree in South Africa and secured for her a distance master scholarship to Havard. Her education development was exclusively sponsored by criminal Paul Kagame. And for her career, all Rwandans know and see it for themselves.
From the late 1990s up to now, she has been criminal Paul Kagame's side dish.
Why is she finally being allowed to get married? The Ange Kagame angle!
For the past weeks, Rwandans on social media have been wondering to why Criminal Paul Kagame has finally allowed his concubine get married. Why now? This is the question that is lingering in Rwanda's mind including sycophants who follow without knowing anything (ignorant suckers).
Clare Akamanzi is totally disliked by estranged first lady Jeanette Nzirorera Gasana Kagame and particularly hated by Ange Kagame. You will never see any single photo of Clare Akamanzi and Jeanette Kagame or Ange Kagame standing side by side in any event. Clare Akamanzi is totally loathed by Jeanette Nzirorera Gasana Kagame and her daughter Ange Kagame.
Criminal Paul Kagame doesn't give a damn about his estranged wife, but when it comes to his children, he 100% cares, listens to them and their worries. While working in her father's office as an apprentice under the stewardship of Ines Mpambara, Ange Kagame came to know about the rumour of extramarital affairs between her criminal father and Clare Akamanzi. She confronted the father with this rumour of which he denied, attributing it to social media rumours concocted by his enemies and those who don't wish Rwanda good.
However, Ange Kagame didn't believe to his father's defence, as her mother – Jeanette Nzirorera Kagame also confirmed about the relationship to her daughter.
Even when in September of last year she went back to USA for her master's degree course, Ange Kagame is still bugging her father about his relationship with Clare Akamanzi. It's from this background that Clare Akamanzi is being allowed to get married by a Ugandan of a Rwandan origin through an arranged marriage.
This arranged wedding was sanctioned by criminal Paul Kagame in order to stop the rumour, especially stopping the doubts within his family – children. This is a public relation marriage meant to shut the rumour.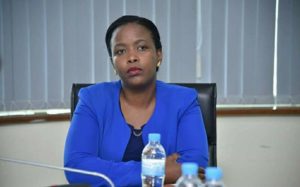 Who is marrying Criminal Paul Kagame's side dish – Clare Akamanzi?
Rwandans especially those in opposition have been posting on Social media about the on coming introduction ceremony of criminal Paul Kagame's side dish Clare Akamanzi; the ceremony which will be held on the 23rd/06/2018 in Kigali has been a protected secret of the state.
In the invitation cards, the names of would be bridegroom isn't included for secrecy purpose. Unfortunately, the corporal is in privy of this secret. The wedding will take place in August of this year.
Names of the bridegroom are Alex Ndibwami Byuma. As noted above, he is a Ugandan of Rwandan origin. Mr Alex Ndibwami Byuma is a senior lecturer at Makerere University in the faculty of architecture. He is an old boy of St. Mary's College Kisubi, where he passed A levels with triple A to join Makerere university.
This middle aged man from smack is intellectually smart, quiet and doesn't like politics. He is a private man. Unfortunately, I have to splash his names because his future wife is a public servant and part of a mafia entity that oppresses Rwandans.
Uncultured
This week exposed the extent of Clare Kamanzi's uncultured manners. Those who are on tweeter, for years, have witnessed her street creeds of insults, abuses, threats and intimidations? She is a sycophant who thinks that her boyfriend's criminal rule will last indefinitely.