By: Rpf Gakwerere 
In their Public Relations deceitful art, criminal Paul Kagame's PR team always share the photos below to demonstrate how the enclave is the African Singapore. These are buildings found in downtown Kigali in what oppressed, enslaved and starving Rwandans refer as Kagame strip.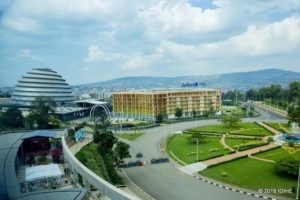 Dear oppressed – enslaved Rwandans and those who are easily manipulated by the regime PR machine. All the buildings in the pictures below are directly owned by the Kagame family. Can anyone tell me any building in the pictures below which isn't owned by the Kagame family?
The brutal ruler of the enclave also grabbed exiled Tribert Rujugiro's mall. In 2016, businessman Bertin Makuza was assassinated through poison and his building in central Kigali – Kagame strip was grabbed by the Kagame family.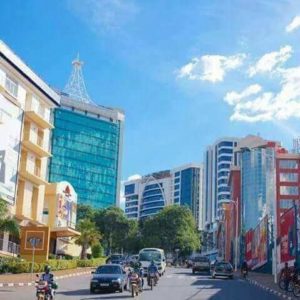 Now, the Kagame family has already encroached on quartier matheus. Forcing property owners to sell their properties to them. Remembe, majority of properties in quartier Matheus are owned by those directly or indirectly related with the regime of dictator Juvenal Habyarimana. And the Kagames are forcing these individuals to sell them the properties for planned property development along quartier Matheus.
To any doubters, just inquire how those who own buildings in quartier matheus are currently being forced to sell their buildings to Horizon construction or prime construction, all are property development companies owned by Kagames.
Unfortunately, even those buildings that where exclusively built by government like the Kigali Convention Centre, oppressed, enslaved and starving Rwandans were told that the Kagames have shares.
In 1996, criminal Paul Kagame owed more than 20 million Ugandan shillings to UCB (Uganda Commercial Bank). Now, after years of high level corruption, embezzlement in the enclave and rampaging DR Congo's natural resources, the man is one of the richest dude in the world with cash stashed in different jurisdictions.