By: HARDSON RUGAMBA
On 13 May 2015, a Burundian Military Godefroid Niyombare declared a coup d'état, announcing on radio that President "Pierre Nkurunziza is dismissed".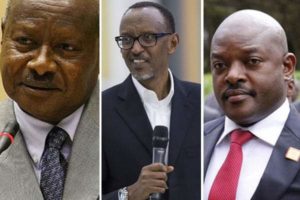 President Nkurunziza was at the time in neighboring Tanzania attending the 13th Extraordinary Summit of the East African Community Heads of State, which had been convened to discuss the situation in Burundi.
Nkurunziza attempted to fly back to Burundi, but his plane was reportedly turned back to Tanzania.
AFP reported that rebel soldiers had seized control of Bujumbura International Airport. Nevertheless, the head of the armed forces, Prime Niyongabo, declared from the RTNB state radio complex during the night of 13–14 May that the coup attempt had been defeated, and he called on rebel soldiers to surrender. Loyalist forces remained in control of the state radio and presidential palace.
Later in the day on 14 May, Nkurunziza announced that he had returned to Burundi, although his specific location was not given for security reasons. He congratulated "the army and the police for their patriotism" and "above all the Burundian people for their patience.
Following the failed coup, Burundi faced a number of targeted assassinations and targeted on members of president Nkurunzinza's ruling party, close confidants including politicians, family members, relatives and military officers.
For example there was an assassination of Gen Adolphe Nshimirimana the then intelligence enforcer in Burundi in 2015, assassination of Col Jean Bokomagu, assassination of Lt Col Darius Ikurakure a cousin to president Nkurunziza in 2016, assassination of Honorable Hafsa Mossi 2016 an MP for EALA and assassination attempts on Burundi's Chief of Defense Forces Gen Prime Niyongabo in 2015 and finally assassination attempts on Ambassador Willy Nyamitwe Burundi's public relations guru also a senior advisor to president Nkurunziza in 2016.
BBC Africa quoted Burundi national Police spokesman Pierre Nkurukiye as saying that instructions were sent from the neighboring Rwanda to plotters in the Burundian military to kill Nyamitwe a claim Rwanda has never respond to.
Subsequently, a Burundian colonel and two corporals who were suspected of espionage and spying for a foreign country were arrested.
After high profile assassinations and assassination attempts in drive of regime change in Burundi, the country's intelligence services went totally hard in their counter intelligence against foreign invasion that were causing anarchy in the Country.
"Any foreign operative on Burundian soil was arrested and severely punished and double agents within the Burundian security system where given the harshest treatment for betraying their motherland". A security pundit on Burundi matters told this investigative website.
By the end of 2016, Burundi had become a no go area for foreign agents. One high ranking military general from a neighboring country who was the head of Burundi desk was in fact recorded addressing to his supposed agents in an audio that leaked to the media.
It is reported that the target has been president Nkurunziza for a regime change but the plan was nipped on its bud.
Enter Uganda
It is reported that this same country has been enjoying frosty relations with the regime in Kampala and has allegedly been plotting for a post Museveni.
"They wanted to create the same scenario like what happened to Iddi Amin Dada where his close confidants and high profile people were killed and blamed it on his government and caused hatred and international condemnation leading to his overthrow by Ugandan dissidents from abroad with help of Tanzania forces."
He added "They knew once Museveni is isolated from his own people, then the public would do the rest. Remember, the ground for uprising is riper now than during Amin's era."
This security pundit explains that targeted assassinations that happened Burundi could have been on going in Uganda for the last 12 years or so.
"All murders and assassinations in Uganda have always been blamed on Allied for Democratic Forces (AD) a terror group based in DR Congo but how comes the group has never come out to claim the responsibility just like other terrorists Alshaabab, ISIL and ISIS do for their propaganda"
"If it's true it was ADF it would come out and own responsibility because it would want to send a message to the regime in power".
For several years, dozens of high profile Ugandans have been assassinated and police has always put the blame on ADF rebels even before investigations commence.
However, no ADF suspect has ever been convicted in these assassinations not even their former supreme leader Jamilu Mukulu who is being charged for different cases at Kampala High Court.
Among these high profile assassinations blamed on ADF include assassination of Sheikh Abdul Karim Sentamu in 2011 at William street in Kampala, Hajj Kigejogejo Kiwewa of Kyanja supermarket in Ntinda in 2012, Busoga Muslim killings in 2013, Sheikh Mustapha Bahiga in 2014, Joan Kagezi on April 30 2015, Sheikh Hassan Kirya also in 2015, Maj Sheik Mohammed Kigundu in 2016, AIGP Andrew Felix Kaweesi on March 17 in 2017 and lastly Hon Col Ibrahim Abiriga on Friday June 8, 2018.
Since 2011, at least every year a high profile Ugandan is assassinated.
Intelligence Leak to Museveni
It is reported that senior intelligence chiefs briefed president Museveni about senior security officers working for a foreign country to destabilize Uganda and cause hatred for the government among the populace.
Intelligence had briefed the president that some security officers were in fact superintending over murders, assassinations, kidnaps illegal repatriation of refugees and handing them over to their countries.
It is further reported that the president was informed that some of these high profile people had been assassinated and that police was using ADF as a scapegoat.
The president who likes listening before acting reportedly kept quiet and instituted his parallel intelligence gathering to get enough evidence.
It should be remembered that president Museveni while visiting the home of AIGP Andrew Felix Kaweesi after his assassination warned then IGP Kale Kayihura to clean "his house or will help him clean it.
After Kayihura did too little or nothing to change the statusquo, president Museveni responded by carrying out massive security and intelligence overhaul in which the latter was sacked and replaced by his deputy Martins Okoth Ochola.
Earlier, the military had arrested senior police officers SCP Joel Aguma, SSP Nixon Agasirwe and others for working with Rwandan agents in the kidnap and illegal repatriation of Rwandese dissidents.
They are being court martialed at General court martial in Makindye.
The military also carried out a number of arrests against suspected Rwanda's spy agents from different areas in the country and are still under questioning.
Kayihura who is alleged to have been maintaining close links with Rwanda's DMI agents was arrested alongside his blue-eyed boys and aides. They are being held at Makindye military barracks cells.
Our pundit says with the current wave of purge within police and other security agencies, and detention of suspected agents, the president is trying to be on top of the situation and could yield fruits.