By: Rpf Gakwerere
In the fight for justice, freedoms, right to exist and human rights; its our duty to expose those behind existence of autocratic regimes. We must standup to denounce those who advance political cruelty, injustice, unfairness, political lawlessness, political intimidation, human rights abuses and dictatorship. It is from this background that we expose Paul Kagame's agent in Norway. A man attached to Gen James Kabarebe's intelligence network of J3. A man who has destroy lives of those genuine asylum seekers who fled Rwandat for the safety of Norway. In our role to uncover those behind the satanic system ruling Rwanda, today we look at a dangerous Military Intelligence operative, Peter Mugisha who lives in Norway.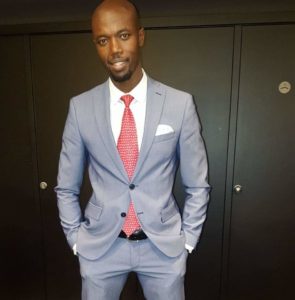 For the last 25 years of Paul Kagame's brutal rule, the brutal dictatorship in Rwanda has always used 6 main approaches to sustain the cruel SATANIC SYSTEM in power. 1) Buying off regime opponents, 2) blackmailing anyone who questions the brutal regime, 3) manipulation of facts, 4) massive PR, 5) intimidation and 6) assassination.
Who is Peter Mugisha?
Peter Mugisha is a nephew to incarcerated RDF officer, Brig Gen Frank Rusagara. His stepfather who is a white Norwegian is Rwanda's consular in Norway. Peter Mugisha is the current chairman of Rwanda community in Norway and he works as an interpreter with an interpreting and translation employment agency which contracts with government institutions, including the Norwegian Immigration Directorate (UDI) and Norwegian police.
Peter Mugisha as head of Rwanda diaspora community in Norway (ARC)
Since Paul Kagame came to power, the junta regime created an external community umbrella referred as Rwanda diaspora. This is an organisation which was created and logistically financed by Rwanda's Directorate of Military of Intelligence (DMI). In all countries around the world which have sizeable numbers of Rwandans, respective Rwandan embassies encourage them to create local committees under Rwanda diaspora, and in Norway, it is Peter Mugisha who heads the association.
It should be noted that, it is totally impossible to head a Rwandan diaspora association without having links to Rwanda's intelligence services. In case of Peter Mugisha, his attached to J3 under the notorious – assassin James Kabarebe. In a bid to reinforce the mandate of being a chairman for Rwandan community in Norway, Peter Mugisha has been following the same intelligence (DMI) guideline to control Rwandans in Norway.
1. He has been forcing Rwandans through tactical intimidation to register with the Rwanda diaspora association, those who have refused, they are backlisted and in case they still have family members in Rwanda, the junta regime starts harassing and intimidating them until their relatives in Norway become members.
2. He has used members of this association to spy on each other, especially on those Rwandans who have refused to be members of this association. In short, like all Rwanda diaspora associations in different jurisdictions, the one in Norway, its also a Rwanda intelligence cover for spying Rwandans, most especially dissidents and real refugees.
3. He has used this association to arrange different Rwanda – state funded gatherings, meetings and fundraisings. Peter Mugisha with his network have used underhand methods in forcing Rwandans to attend political meetings which attracts Rwanda regime representatives, and for those who don't attend such meetings their family back in Rwanda face the consequences and repercussions. Peter Mugisha has used under hand methods in pushing members into contributing on monthly basis funds which are directed to coffers of the pollical party which rules Rwanda. In short, they are financially contributing to a political party which they claim to have forced them flee to exile. Peter Mugisha was also the returning officer at the Rwanda embassy for the 2017 scam presidential election.
Rwanda Diaspora community in Norway of which Military intelligent agent Peter Mugisha leads, its merely an intelligence tool meant for gathering intelligence information and put in place checks to control Rwandan community in Norway, especially in relation to questioning the junta regime in Rwanda.
Peter Mugisha and his interpreting job
DMI operative Peter Mugisha has used his job as an interpreter to advance his intelligence assignment. He works as an interpreter in Kinyarwanda and Kirundi with an agency in Oslo, this interpreting and translation employment agency has contracts with government institutions which includes the Norwegian Immigration Directorate (UDI) and Norwegian police. He has used this role to destroy dossier of genuine asylum seekers, while helping Rwanda's intelligence operative agents or family members of junta officials in Rwanda settle in Norway under falsified information.
In western world, interpreters are guided by crucial ethics. They must have professional conducts of confidentiality, trustworthy, competence, impartiality, accuracy and clarity of role boundaries. For Peter Mugisha, he destroyed dossiers of genuine asylum seekers by telling immigration case workers the opposite of what an asylum seeker has said. He preyed on vulnerability of many genuine asylum seekers by giving misinterpretation and wrong translations to immigration case workers. These led to genuine asylum seekers being denied refugee status, some getting the status on appeals while others being deported to abattoirs in Rwanda.

According to different sources, Hutus were mostly hit in this intelligence guided vendetta of misinterpretation and wrong translation especially those who had spent years outside Rwanda, for example living within SADEC countries. For Tutsis, his target has been those who had been in RDF and later fled the country, of recently, those that he knows must be having relatives in RNC.
As Rwanda's Military Intelligence operative, Peter Mugisha always passes information to Rwanda's embassy of all immigration cases for those Rwandans he has worked as interpreter and translated in their asylum application – immigration cases. He doesn't have any single confidentiality ethics.
While he has destroyed asylum cases of genuine asylum seekers, on the other hand, he has supported fake and bogus asylum seekers gain refugee status in Norway. He advises, supports and help build false asylum claims for those intelligence agents that the satanic system wants to settle in Nordic countries, especially Norway. He also supports family members of those in the satanic system settle in Norway through making fabricated asylum claims.
Peter Mugisha and his role in fabrication of genocide cases against innocent Rwandans in Norway.
In Europe, Norway's DMI operatives are callous, dangerous, deadly, ruthless and uncompromising when it comes to eliminating in the name of criminal Paul Kagame. According to different sources, Norway's DMI operatives are as dangerous as those deployed around different jurisdictions.
After the fall of dictator Juvenal Habyarimana, with Hutus settling in Scandinavia countries, DMI deployed deadly operatives in Scandinavian countries. In this case, DMI deployed uncompromising elements through the pretext of seeking asylum. In case of Norway, these trained operatives were survivors of the Tutsi genocide.
Currently, when you're a Tutsi and opposing or questioning the brutal regime in Rwanda, if they fail to eliminate you, fabricated charges of embezzlement, corruption or treason will be put against you; and if you're a Hutu and they fail to eliminate you, fabricated genocide charges will be put against you.
It is from this background that DMI operatives in Norway used the genocide scare tool to control Rwandan Hutus in that country into being extreme supporter of the regime that they claim to have run from. Those who refused genocide cases where presented to Norwegian judicial system. Peter Mugisha, Emile Rutaganira and Fidel Sugira, all support Felix Muhigana who was appointed by Kigali to coordinate such cases of Rwandan Hutu dissidents residing in Norway.
For example, they presented 22 genocide cases to Norwegian prosecution services, 19 of them where acquitted, 2 have been acquitted recently and 1 is still under investigation. This list of 22 people was created based on how these people are regime opponents rather than any past crimes they may have committed.
As I always note, those who participated in Tutsi genocide are high ranking members of the Satanic System ruling Rwanda. Why not start with Sheikh Musa Fazil Harerimana, Boniface Rucagu et al?
As noted above, the translation and interpreting agency that provides job assignment for Peter Mugisha also works with the Police and judicial system. He was assigned to work as a Kinyarwanda interpreter and translator in the genocide cases that he had a hand in fabricating. As a callous character with no single professional ethics, he came with the same stands which he plays at the Norwegian Directorate of Immigration, intentionally providing wrong translations which are opposite to what the client has told him. Only this time around, he was caught ready handed and complaints where lodged against him and other Kinyarwanda interpreters.
The link below written in norsk is talking about how interpreters – translators played huge role in mispresenting of the above cases which were acquitted by Norwegian judicial system as baseless with no credibility.
https://www.dagsavisen.no/debatt/norge-gjor-urett-mot-rwandiske-hutu-flyktinger-1.450195
Peter Mugisha and his visits to London.
When incarcerated Brig Gen Frank Rusagara was still a military attaché to U.K; notorious Gen James Kabarebe used to send Peter Mugisha to London to spy on his uncle. The Satanic system in Rwanda, has turned Rwandese society into an evil society. A society that a child spies parents and vice versa, relatives spy on each other, neighbours spy on neighbour and thus, creating a police state. Peter Mugisha would visit his uncle in London under instructions from J3 network of Gen James Kabarebe – Gen Jack Nziza axis.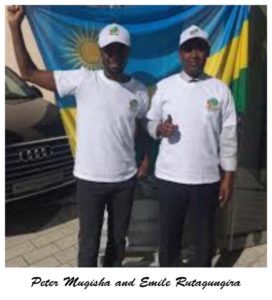 Composition of Rwanda's Directorate of Intelligence (DMI) leadership in Norway.
Peter Mugisha, Emile Rutaganira a former RDF soldier, Fidel Sugira, Felix Muhigana and Gen James Kabarebe's young sister – Jovia Ingabire Ntugire. For years, these individuals have operated under the J3 network and Jovia Ingabire Ntugire being the liaison between the group and his brother Gen James Kabarebe. This group also report to Jimmy Uwizeye, Rwanda's First Secretary to U.K and Rwanda's external intelligence coordinator in Europe.
On 29th June 19, these agents and agents from different parts of Europe will be having a meeting in Lille France. Senior DMI operatives and senior party members from Rwanda will be in Lille, France for a two-days meeting with DMI operatives based in Europe. Those from USA and Canada will be present. Without doubt, the meeting will be on the usual bloodthirst policies of intimidation and eliminating mainly through poison political dissidents based in Europe and North America. Then participants will be thanked for spreading terror and then paid for their loyalty.