By: Rpf Gakwerere
Last night, as I listened to this great piece by Congolese Soukus singer, dancer, producer and composer, the great maestro Koffi Olomidé; memories of my Mbarara boy, a childhood brother Major Emmanuel Nkubana nicknamed from childhood Kadogo started hitting me. These are childhood memories that I will always cherish. I miss you brother.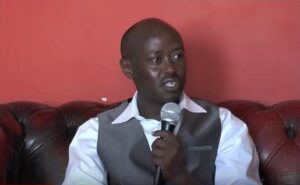 Major Emmanuel Nkubana alias Kadogo was kidnapped in Uganda on the  28/09/2016 by criminal Paul Kagame's Directorate of Military Intelligence (DMI) team that involved Col Franco Rutagengwa, Col Faustin Tinka and Lt Col Francis Gakwerere with the help of double agent Gen Kale Kayihura who was then Uganda's Inspector General of Police.
To demonstrate how people from Criminal Paul Kagame's land are notoriously dangerous, the key kidnapper, Col Franco Rutagengwa was a cousin to the late Major Emmanuel Nkubana. Col Franco Rutagengwa kidnapped his own blood (Cousin) and delivered his own blood (cousin) to criminal Paul Kagame for torture and extremely slow death. Under criminal Paul Kagame, greedy, selfish and satanic people have spied, reported, kidnapped, tortured and killed their own relatives, neighbours, friends…etc, in the name of appeasing Chief Satan and other rewards from Chief Satan – Criminal Paul Kagame.
My childhood friend and brother, Maj Emmanuel Nkubana was tortured to his death. Death Merchant – Maj Gen Jack Nziza's torture method of skinning that he introduced in DMI was done on him.  Major Emmanuel Nkubana was slowly skinned like an animal until his last breath due to extreme torture. Criminal Paul Kagame enforced a slow painful death on him, and his body was dissolved in acid. The Assassination of Major Emmanuel Nkubana's mother will be a discussion for another day.
In the eyes of criminal Paul Kagame, Major Emmanuel Nkubana had committed unforgivable "crime" of opposing and questioning his brutal regime.
The song in the clip below was a homage by Koffi Olomidé to the former popular prime minister of Côte d'Ivoire Hamed Bakayoko who served as Prime Minister of Côte d'Ivoire from 8 July 2020 until his death on 10 March 2021. He had previously served as the country's Minister of ICT, Minister of the Interior and Minister of Defense. The current president of Côte d'Ivoire, Alassane Dramane Ouattara was grooming Hamed Bakayoko to replace him.
Everything have an end, and Criminal Paul Kagame's injustices, brutality, brutal dictatorship, killings and plundering of both Rwanda and DR Congo will end. Patience and prayers only.
———————————————————————————————————–
N.B: you can follow me at – Robert Patrick Fati Gakwerere page (Facebook page), @RGakwerere (tweeter) https://twitter.com/RGakwerere?s=08 or at my blog – rpfgakwerere.org.
However, for those in the enclave – Rwanda, the blog rpfgakwerere.org was blocked by the junta regime, it can't be accessed unless you are using VPN.