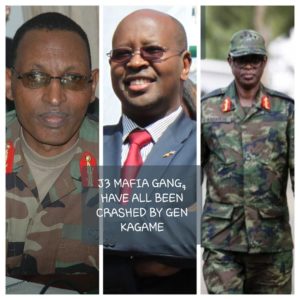 By: Rpf Gakwerere
TOO MUCH INFORMATION FROM THE POTATO ENCLAVE, IT'S DIFFICULT TO PICK WHERE TO START. ONE THING THAT IS CRUCIAL, WE ARE WITNESSING THE LAST MONTHS OF THE SATANIC SYSTEM RULING THE ENCLAVE, IT'S NO LONGER YEARS, IT'S MONTHS. WITHOUT DOUBT, GOD IS ON OUR SIDE, THE SATANIC REGIME IS INTERNALLY TEARING ITSELF.
DEAR OPPRESSED AND ENSLAVED RWANDANS, LIBERATION DAY IS SOON APPROACHING, THE TIRED SATANIC SYSTEM RULING THE POTATO ENCLAVE IS INTERNALLY IN TOTAL DISARRAY.
AFTER SIDELINING J3 (JACK NZIZA, JAMES KABAREBE AND JAMES MUSONI) MAFIA GANG, CRIMINAL PAUL KAGAME AND HIS NEW BOYS ARE MOVING IN TO TOTALLY DESTROY J3 NETWORKS WHICH WERE DEADLY, AND MOST OF THEM ARE NOW ROAMING AROUND KIGALI AIMLESSLY AS THEIR BOSSES WERE CRASHED.