By: Rpf Gakwerere
For months, elements within J3 had provided wrong information through assassin Brig Gen Dan Munyuza's desk about Joy Agaba, young sister to assassinated NRA and RPA hero, Gen Fred Rwigema.
For those who don't know, in Rwanda's security circles, J3 is an acronym of James Kabarebe, Jack Nziza and James Musoni alliance; and Jeannette  Kagame Gasana is an axis of this mafia network. This is an alliance made out of hell. I hope readers will not confuse G3 which is military acronym for training, operational requirements, combat development & tactical doctrine. J3 is a mafia system within the grand satanic system.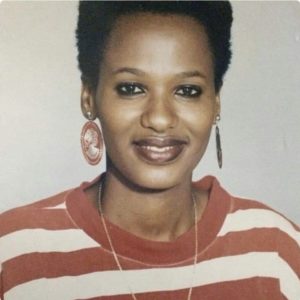 J3 elements within the Directorate of Military Intelligence (DMI) started feeding assassin Brig Gen Dan Munyuza wrong information about a channel of communication between Joy Agaba and Gen Abel Kandiho, the head of Uganda's powerful chieftaincy of Military Intelligence (CMI). Gen Abel Kandiho is among several foreign officials who have been blacklisted (Class A target list) for assassination at all cost by the potato enclave's DMI under the strict directive of criminal Paul Kagame.
Brig Gen Dan Munyuza who is the current security enforcer within the satanic system got all the fake information from J3 elements, without assessing and cross examining the information; assassin Dan Munyuza started feeding his criminal boss – Paul Kagame, the same fake information from J3 elements.
When the new DMI chief – Brig Gen Vincent Nyakarundi started telling criminal Paul Kagame that Joy Agaba is lamenting and whining about the assassination of her brother – Gen Fred Rwigema, this was a last straw on the fate of Joy Agaba, young sister to Gen Fred Rwigema. And criminal Paul Kagame personally sanctioned for her elimination.
In series of intimidations, harassments and psychological torture which lasted years, just last year in July 2018; Joy Agaba was called by assassin Brig Gen Dan Munyuza's office for hours of interrogation. The young sister to assassinated hero, Gen Fred Rwigema went through hours of interrogation about the communication between her and Gen Salim Saleh, the young brother to President Museveni.
Joy Agaba had known Gen Salim Saleh since her primary school days, this was due to brotherly relationship between Gen Salim Saleh and Gen Fred Rwigema. To Joy Agaba, Gen Salim Saleh was her lovely big brother. According to very reliable sources, Joy Agaba had spent years without talking to Gen Salim Saleh and she had told Brig Gen Dan Munyuza these facts during hours of interrogation in July of 2018.
For years, Gen Salim Saleh has been in DMI class A blacklist for assassination at all cost; criminal Paul Kagame's resentment against Gen Salim Saleh is well known within both Uganda and Rwanda's security circles; and fake intelligence information linking Gen Salim Saleh and Joy Agaba to be in constant communication wasn't taken well by the ruler of the potato enclave.
After the interrogation at assassin Brig Gen Dan Munyuza's office, Joy Agaba was ordered to hand in her passport of which she was told to fetch when she attends the appointment. From July 2018 to the time of her assassination on night of 22nd November 2019, Joy Agaba's passport had been confiscated by assassin Brig Gen Dan Munyuza's office under directives from criminal Paul Kagame.
On the night of 22 November 19, the brutal regime of dictator Paul Kagame eliminated through strangulation Joy Agaba, the young sister of former NRA and Rwandan freedom fighter Gen Fred Rwigyema. Strangulation is a well known modus operandi of criminal Paul Kagame's DMI thugs.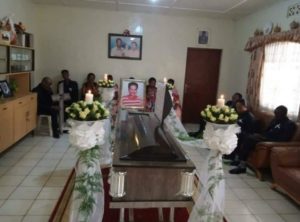 Yesterday Friday, 29th November 19, Joy Agaba was laid to rest and the ceremony showed the hallmark of fear engulfing criminal Paul Kagame's potato enclave with few daring to attend Joy Agaba's burial ceremony.
From the day she was assassinated, on 22nd Nov 19 to her burial on 29 Nov 19, none of DMI owned tabloids or any newspapers in the potato enclave (Rwanda) write or mentioned anything about the death of Joy Agaba, sister to assassinated hero, Gen Fred Rwigema. Criminal Paul Kagame's hate against Gen Fred Rwigema's family is unimaginable.
Without doubts, criminal Paul Kagame and his cohorts will one day pay for the blood of millions of people they have brutally killed.
RIP JOY AGABA.
—————————————————————————————————————————
N.B: you can follow me at – Robert Patrick Fati Gakwerere page (Facebook page), @RGakwerere (tweeter) or at my blog – rpfgakwerere.org.
However, for those in the enclave – Rwanda, the blog rpfgakwerere.org was blocked by the junta regime, it can't be accessed unless you are using a VPN.